Wiranto says PDIP, Democratic Party cadres involved in vandalism case in Pekanbaru.
REPUBLIKA.CO.ID, JAKARTA -- The Democratic Party General Chairman Susilo Bambang Yudhoyono (SBY) has instructed leaders of the party to meet in response to Coordinating Minister for Politics, Law and Security Affairs Wiranto's statement on identity of perpetrator of vandalism case in Pekanbaru, Riau Province. SBY led the Democratic Party's Central Leadership Council (DPP) meeting in Mega Kuningan, Jakarta, on Tuesday.
"We call it an emergency meeting because in the short time we invite the Chairman of the Trustees Board, the Honorary Council, the Secretary General, the Treasurer, the Kogasma Commander. We even invite the Riau regional representative board (DPP) and Pekanbaru branch representative board (DPC) where the case occured," Secretary General of Democratic Party, Hinca Panjaitan told Republika.co.id, Tuesday (Dec 18).
According to Hinca, the meeting began at 10:00 WIB. He added, the meeting was directly led by SBY, to followed up on Wiranto's statement yesterday afternoon.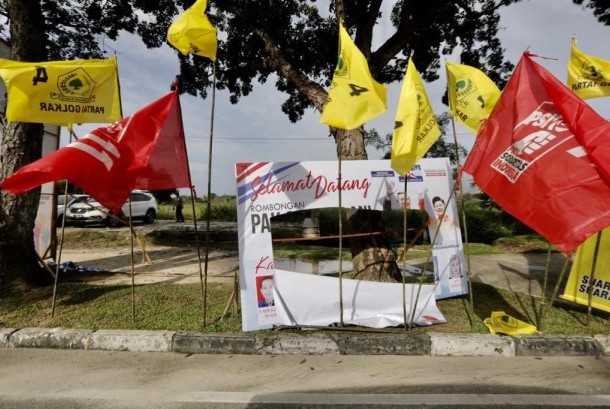 Democratic Party campaign attributes vandalized in Pekanbaru, Riau.
"We will discuss it first and after that we will explain to the public, to make it clear," he said.
Previously, Wiranto said that the information about the alleged involvement of Indonesian Democratic Party of Struggle (PDIP) and Democratic Party members in destruction of political party campaign attributes obtained from National Police Chief General Tito Karnavian on Monday (Dec 17). Wiranto asserted that he wasn't making it up.
"It's okay. This is a free country, and everyone can give their opinions. But the information I conveyed before was from the National Police Chief on Monday meeting," Wiranto said in response to the Democratic Party's rebuttal in his Central Jakarta office on Tuesday (Dec 18).
Earlier on Monday night, SBY who is also the former President has commented Wiranto's statement through his Twitter account. He objected that his party was considered involved in the vandalism case of his political party attributes in Pekanbaru, Riau Province.