The 2nd National Dhikr to be held at State Palace on Wednesday (Aug 1) night.
REPUBLIKA.CO.ID, JAKARTA -- Hubbul Wathon Dhikr Assembly (MDHW) and the State Palace to organize the 2nd National Dhikr on Wednesday (Aug 1). Around 1,000 ulemas will be invited to State Palace to dhikr in commemorating the 73 Independence Day of Indonesia.
Secretary General of MDHW, Hery Haryanto Azumi explained the second National Dhikr themed "Trustworthy leader, prosperous people, be blessed the nation." He sought for maintaining synergy between leader and ulema.
"We will invite 1,000 ulemas, kiai and habaib from Aceh to Papua," Hery said in a press conference at MDHW office, Tebet, South Jakarta, on Tuesday (July 31).
He called on all Indonesian people to strengthen the love of homeland. MDHW would also invite 2,000 members of assemblies of dhikr from Jakarta and surrounding areas. "We will try to unite them," he said.
Also read: Some 8.5 thousand people join "171717" mass prayers
National Dhikr to be started at around 16:00 pm. The event will be inaugurated at 19:40 pm. General Chairman of MDHW KH Musthofa Aqil Siradj, Chairman of Advisory Council MDHW KH Ma'ruf Amin, and President Joko Widodo will deliver their speech.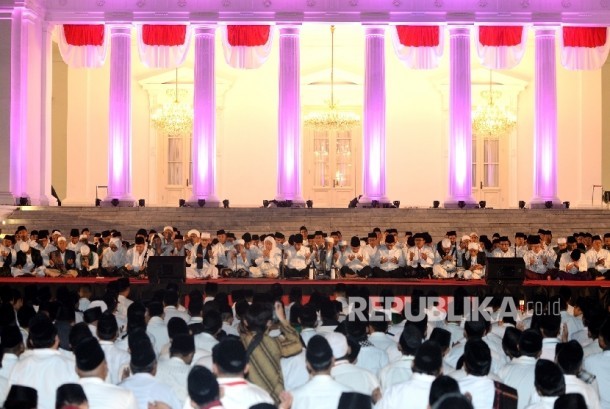 The 1st National Dhikr held at Merdeka Palace, Jakarta, Tuesday, Aug 1, 2017 night.
The main event of National Dhikr will be lead by KH Miftahul Akhyar and Habib Ahmad bin Idrus Al Habsy. National Dhikr will be closed by prayer lead by the elder of Nahdlatul Ulama KH Maimun Zubair.
According to Kiai Siradj, National Dhikir was held to response the concern of elder ulemas to the recent situation. Muslims in Indonesia have been divided, especially after a group claimed the Unitary State of the Republic of Indonesia (NKRI) as taghut or deviant or infidel.
Kiai Siradj was grateful MHDW could hold the second National Dhikr. He assessed, the government and ulemas should always cooperate to tackle offending sentiments on tribe, religion, race, and intergroup (SARA). He expressed hope the event could create prosperity and security and sustainable cooperation between ulemas and the government.