Restriction on goods to maintain food security
Tuesday, 28 February 2012, 18:48 WIB
Komentar : 0
Republika/Wihdan Hidayat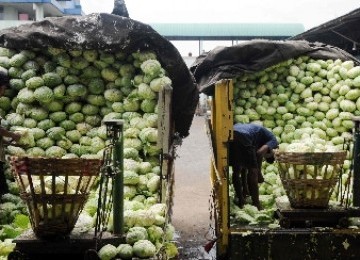 REPUBLIKA.CO.ID, JAKARTA - Indonesian government would implement some restriction of goods loaded in the port to control the food security, the Minister of Agricultural, Suswono, said on Tuesday. The new restriction will be implemented on March 19.
He took Tanjung Priok Port as an example. During the high traffic of loading and unloading goods, the custom staff cannot detect some commodities of horticulture. It can pose a threat to food security as ten percent out of 1.500 containers a day contains horticulture or agriculture products.
"The port facility may be still inadequate and it is worse when some sensitive goods are passed without being checked. I believe that checking the goods before entering Indonesia is the best measure. It is for the sake our food security," he said.
Tiadakah kamu mengetahui bahwa kerajaan langit dan bumi adalah kepunyaan Allah? Dan tiada bagimu selain Allah seorang pelindung maupun seorang penolong. ((QS. Al-Baqarah [2]:107))