President Joko Widodo (Jokowi) has signed Inpres on Lombok quake handling.
REPUBLIKA.CO.ID, JAKARTA -- President Joko Widodo (Jokowi) said he would visit Lombok in West Nusa Tenggara (NTB) Province in a near future. He wanted to ensure that reconstruction of the quake devastated island would progress as expected.

"Perhaps this week or next week," the president said adding he hoped that the people would rise again to rebuild their houses and revive their economic activities.

The president said the impact of the quakes is handled nationally involving the regional administration and the central government. "Indeed we are doing it by phases, especially in the reconstruction of houses totally damaged and repairs of houses with moderate and minor damage," he said, adding the process will take time.

He said he has signed a Presidential Instruction (Inpres) on the procedure to cope with the impact of the Lombok quakes. The Inpres would provide a legal basis for ministries and related agencies in carrying out job in the field, he said.

A succession of big quakes with magnitude of 6.4 up to 7 on the Richter Scale hit Lombok in less than a month killing around 550 people leveling to the ground thousands of houses.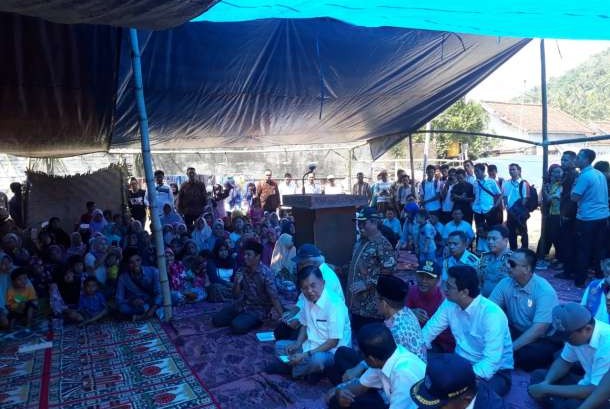 Vice President Jusuf Kalla reviews the Lombok earthquake evacuation post in Kekait Village, Gunung Sari, West Lombok, Tuesday (August 21). He is accompanied by NTB Governor Muhammad Zainul Majdi, Minister of Education and Culture Muhadjir Effendy, Social Minister Idrus Marham, Minister of Public Works and Public Housing Basuki Hadimuljono.


The first hit on July 29 with a magnitude of 6.4 on the Richter scale, followed by one on Aug. 5 with a magnitude of 7 on the Richter scale and the latest ones on Aug 18 with magnitude of 6.5 in mid day and another at night 6.9 on the Richter scale.

Earlier, Vice President Jusuf Kalla said the Indonesian government targeted reconstruction to complete in six months. The process would start next week.

"The president has ordered the reconstruction (of the damaged houses) after the emergency response period is over," Kalla stated after chairing a coordination meeting at the office of the West Nusa Tenggara governor on Tuesday.

He remarked that the central government was ready to assist Lombok residents in rehabilitating and reconstructing their houses damaged in the wake of a powerful earthquake on the island. Kalla also mentioned that Lombok quake would not be stated as national disaster as the provincial government was still able to function.


sumber : Antara