Five terrorists in a minivan attack Riau Police Headquarters on Wednesday morning.
REPUBLIKA.CO.ID, PEKANBARU -- A policeman, namely Auzar, died in an attack to Riau Police Headquarters on Wednesday (May 16) morning. He was hit by a minivan drove by suspected terrorist who tried to break in the enterance gate of the office.

Meanwhile, one police member, namely Farid Abdullah suffered stab wound. He currently is undergoing medical treatment at Bhayangkara Riau Police Hospital, Riau Police spokesman Sunarto said on Wednesday.

The minivan reportedly carrying three terror suspects also hit and injured two journalists who were at the local police headquarters for a press coverage. Two of the terror suspects came out of the van and attempted to attack police officers by using samurais but they were apparently shot by the police.

The four suspected terrorists were reported died. Meanwhile, another one -- who drove the minivan -- fled but then secured by police.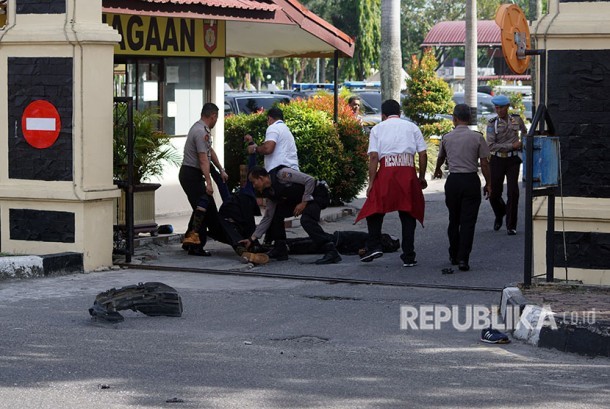 Police officers evacuate two suspected terrorists bodies from the entrance gate of Riau Police Headquarters, on Wednesday (May 16).

Meanwhile, National Police Chief General Tito Karnavian had earlier confirmed that the suicide bombers, who had attacked the Police Headquarters in Surabaya on Monday morning, were members of one family.

The Police chief informed the press on Monday that the attackers had used two motorcycles with explosive bombs. "They were five suicide bombers, who belonged to one family," he stated.

During the attacks, they blew themselves up. Four of them died.
"They were attempting to enter the complex, but the security was tight. When they were stopped, a police car was entering, and the explosion then occurred. Four of them died and one of them, a child, was seen stumbling around after the blast and survived," he revealed.

He remarked that the explosion had injured a police officer, who survived the bomb blast. The attackers belonged to the same group of suicide bombers that had attacked three churches in Surabaya and killed 18 and injured dozens others in Surabaya on Sunday.

They belong to the cell of the Jamaah Ansharud Dualah, an extremist group affiliated with the ISIS network.


sumber : Antara