Abu Bakar Baasyir has not meet the terms to get a parole, the government says.
REPUBLIKA.CO.ID, JAKARTA -- Chairman of the Muslim Defenders Team, Muhammad Mahendradatta stressed that the conditions of being loyal to the Unitary State of the Republic of Indonesia could not be applied for the release of convicted terrorist Abu Bakar Ba'asyir. According to him, the rule of the conditions was not retroactive.
"We are familiar with the non-retroactive constitution. What year is it? Has it been implemented yet? It will be stupid if you want to follow the new things," Mahendradatta said at RSCM, in Jakarta, on Tuesday (Jan 29).
The condition for signing documents of loyalty to NKRI must be carried out by a convict who will receive parole. These condition is stated in Government Regulation Number 99 of 2012 concerning the Second Amendment to Government Regulation Number 32 of 1999 concerning the Terms and Procedures for the Implementation of Correctional Assistance for Citizens.
The requirement came into effect since November 2012, while the court's decision on Ba'asyir's case was in February 2012. Mahendradatta said that based on the nonretroactive principle, Ba'asyir could not be subject to this requirement because Ba'asyir's sentence was decided prior to the enforcement of law regarding the requirement of stating loyalty to NKRI.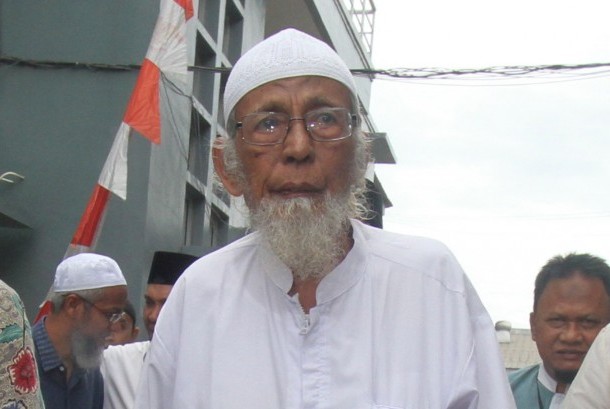 Convicted terrorist Abu Bakar Baasyir
He asserted that from the beginning Ba'asyir had also never been willing to sign any documents of his detainment.
"From the start, ustaz never wanted to sign any documents that were offered, such as the police investigation report (BAP), the arrest warrant, then the transfer to the Nusa Kambangan Prison, he never signed it," he said.
According to him, there was indeed a parole offer. However, he reiterated that Ba'asyir had indeed never wanted to sign any documents, but then the statement came that his client did not want to sign document stating his loyalty to the NKRI and Pancasila.