SBY expects greater loyalty from ministers
Tuesday, 24 July 2012, 01:53 WIB
Komentar : 0
Republika/Tahta Adililla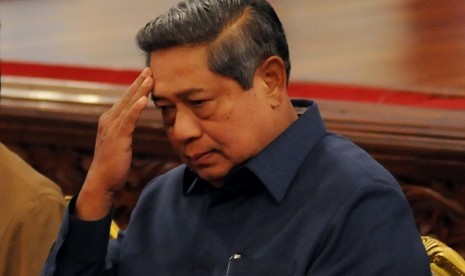 REPUBLIKA.CO.ID, JAKARTA - Cabinet secretary Dipo Alam said President Susilo Bambang Yudhoyono (SBY) expected that all his cabinet ministers would remain with him until his term ends in 2014. "But those implicated in irregularities as there are many unveiled in corruption court have to be dealt with," Dipo said giving no names.
Including those attending to their political interest at the expense of their duties as cabinet members should be better to tender their resignation, he added. Dipo was replying to questions by reporters about similar statement on Thursday by SBY. "The statement by the president was not directed at certain person or minister, but the whole cabinet and all government officials," he said.
SBY was concerned with the rampant corruption involving legislators and government officials, he said. According to Dipo, the president praised the law enforcements in seeking to stamp out corruption from this country.
He said SBY also called on the members of the legislators not to collude with government officials in committing corruption. SBY expressed his concerns over the many high ranking officials and leaders of political parties involved in corruption.
SBY, Dipo said, was aware of budget funds being marked to be blocked until illicit deals were reached between the legislators and officials concerned. The president told his ministers not to be involved in such deal, although it could mean delay in the implementation of development projects, he said. He acknowledged implementation of many development projects has been hampered on corrupt lawmakers and government officials.
Jadikanlah sabar dan shalat sebagai penolongmu. Dan sesungguhnya yang demikian itu sungguh berat, kecuali bagi orang-orang yang khusyu(QS.Al-Baqarah:45)