REPUBLIKA.CO.ID, INDRAMAYU — A large banner reading "Mambo in Action, One Heart For Palestine" was posted at Mambo Market, Indramayu Regency, West Java, Sunday (12/11/2023) night. In the central culinary district, songs with Palestinian themes played through loudspeakers were also heard.
The pro-Palestinian movement was organized by a group of young men who used to gather at Mambo Market. "The original idea was to look at the news about Palestine and we don't want to turn a blind eye," said Ledy Putri Sambow, 26, one of the young people involved in the action.
Ledy and his friends claimed not to be from any formal organizations. They are just visitors who have grown accustomed to hanging out in the Mambo Market area. Moved to help the Palestinians, the group of young men then discussed with the merchants of Mambo Market to stage a stunt. Ledy said there were about 23 food vendors in Mambo Market who participated in "Mambo in Action".
The merchants put up Palestinian flags and provided boxes of charity in carts where they sold each one. Buyers or visitors who want to donate to the Palestinians can put money in the cash box.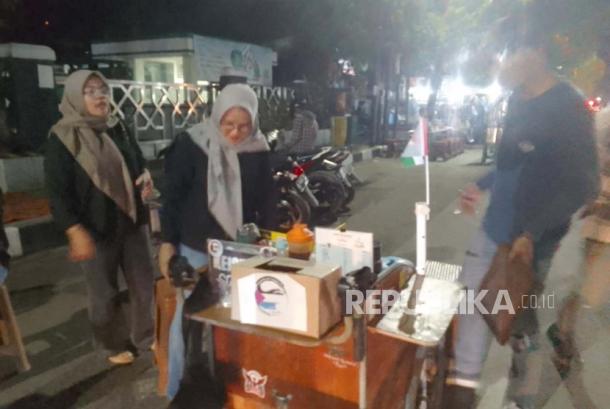 Ledy said any donations or money collected would be turned over to agencies that could channel aid to the Palestinians. He hopes that this action together with the merchants of Mambo Market can help the Palestinian people.
While in the Island of Borneo, the solidarity movement as a form of support for the Palestinian community was carried out by the Indonesian Young Entrepreneurs Association (Hipmi) by distributing 500 kilograms of watermelons at Sipakario Beach in Penajam Paser North Regency, East Kalimantan Province. "Watermelon is a symbol of resistance for the Palestinian people," said Chairman of Hipmi District Penajam Paser North Sayyid Hasan in Penajam, Sunday (13/11/2023).
Watermelon pieces are distributed free of charge aka free to visitors of Sipakario Beach in Nipah-Nipah Village, Penajam District. It starts around 15.30 central Indonesian time.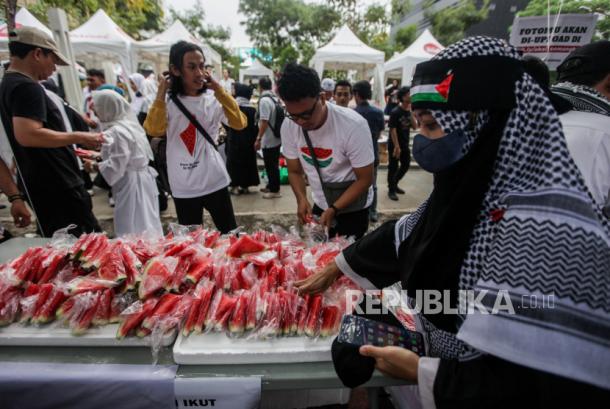 The activities of sharing free watermelons as a form of support for the Palestinian people, according to him, and to invite people to care about the events that befall the Palestinian people. "We are handing out free watermelons in the solidarity movement because it has its own philosophy towards the Palestinian people," he added.
Solidarity movements according to their capabilities can evoke the sense of concern and support felt by the Palestinian people. Small support by handing out free watermelons, he explained, as an invitation to evoke a sense of concern and a sense of humanity for the Palestinian people.
Other small support for the Palestinian people, he said, could also be done by uploading photos of watermelons or watermelon-fruit emojis on their respective social media accounts. The colors of watermelon (red, white, black and green) became a symbol of the resistance of the Palestinian people to the Zionist colonization of Israel.
"We hoped that the war will end quickly and the Palestinian people will gain independence and return to a sense of peace," says Sayyid Hasan.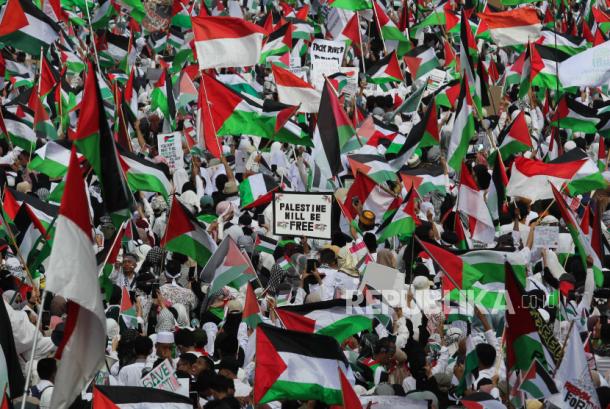 In Sumatra, Mayor of Medan Bobby Nasution participated in a haircut event with Dandim 0201/Medan Kol Inf Ferry Muzawwad and other citizens showing concern for the Palestinian people. Medan Mayor's action was carried out with a group of barbers who held a donation entitled "Barbers Pray for Palestine" on Jalan Balai Kota exactly in front of the Lonsum Building, Medan, Sunday.
After cutting his hair, Bobby Nasution was seen putting some money into a charity box placed in front of Medan City residents who were cutting their hair. Other residents who have finished cutting their hair have donated wholeheartedly, and all funds raised are donated to humanitarian causes in Gaza, Palestine.
Chairman of the Barber (barber) Community of Medan Frans appreciates Medan Mayor Bobby Nasution for fully supporting humanitarian action for the Palestinian people. All funds raised would later be donated entirely to the Palestinian people through the Nusantara Palestine Center (NPC).
In Solo, Central Java, hundreds of people staged a Palestinian concern rally in front of Solo City Hall, Sunday (12/11/2023). According to one of the coordinators of the action and an elder of the Sharia Council of the City of Surakarta (DSKS), Yusuf Suparno, the action was followed by a number of elements from Solo Raya.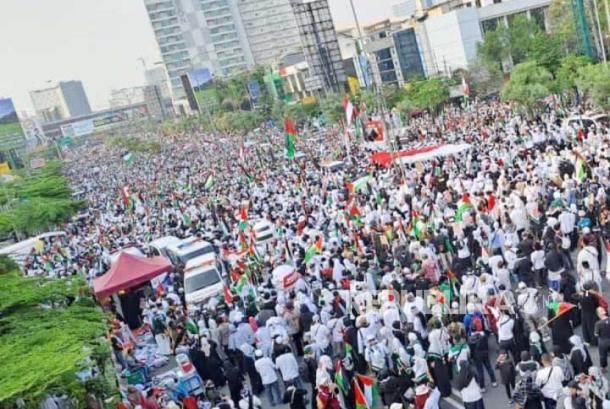 The crowds that came to Solo City Hall was followed by dozens of ambulances. "This is a community of ambulances and volunteer doctors to nurses. It is a concern because hospitals are being targeted in Palestine," one of the organizer said.
In Riau, the local government hold the event "Tabliq Akbar Dari Bumi Melayu Riau untuk Palestine" on Saturday evening. Tens of thousands of people filled the courtyard of the Grand Mosque of An Nur in Pekanaru, the capital of Riau Province. The famous preacher Ustaz Abdul Somad also amongst the crowd.
Acting Governor of Riau, Edy Natar Nasution, called for massive fundraising of aid for the Palestinian community on the occasion. Edy said the fundraiser, in addition to helping the struggle of the Palestinian people, would also be a blessing for the entire community in Riau Province. Edy said they has collected approximately 5 billion IDR (318.000 USD) in one night.