Labor issues have been taking place at PT Freeport since May 2017.
REPUBLIKA.CO.ID, TIMIKA -- The management of gold and copper miner PT Freeport Indonesia (PTFI) has denied rumors that most workers will be laid off immediately as a result of the future closure of Grasberg's open-pit mining operations. According to PTFI spokesman Riza Pratama the management had no plan to reduce the number of workers, though he admitted that the Grasberg open-pit mine in Tembagapura area, operated since 1990s, would be closed.

In future, PTFI will focus entirely on developing its underground mining operations, and the concentrate production of this Papua Province-based gold and copper miner could not yet be optimized for two years until 2020, he revealed.

"The next two years will be a transitional process during which the (concentrate) production of FTPI's underground mining operations cannot yet be optimized. Thereafter, we expect that the production will steadily increase," he stated here on Thursday.

Hence, within these two years, PTFI will prioritize the supplies of its concentrate to a copper smelter plant in Gresik, East Java, while the end of the Grasberg mining operations might trigger a drastic decline in PTFI's production until 2020.

This condition will have an impact on the company's gross revenue. It implies that the allocated funds for financing the partnership and empowerment programs for local residents around the mining areas in Mimika District will also be affected.

The Indonesian Government has given PTFI five years to complete the construction of its copper smelter plant in Gresik, whose designed capacity is two million DTM of concentrate per year and 460 thousand tons of cathode copper. PTFI has again drawn public attention after several laid-off employees staged a protest in Jakarta for more than a week.

On Feb 13, three laid-off employees of this gold and copper miner were finally received by President Joko Widodo (Jokowi) after nine days of staying in a tent that they had set up not far from the State Palace in Central Jakarta. The three former workers, who represented other laid-off workers of the Papua Province-based gold and copper miner, were Jerry Yarangga, leader of PTFI's ex-employees; Stefen Yawan, ex-dump truck operator; and Oktoia Yeimo, former engine operator.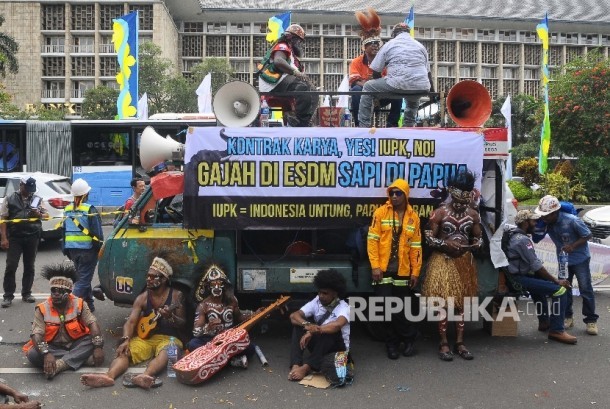 PT Freeport Indonesia employees stage a rally in front of ESDM Ministry, Jakarta. (File photo).
According to Yarangga, they were received by Jokowi when he and his two colleagues reported to the president about the inhumane treatment of laid-off workers by the PTFI management. Hence, they begged the president to grant them justice by encouraging the mining company's management to address its employees' normative rights and re-recruit them, so that they could work again, he stated.

Their presence in Jakarta is aimed at fighting for justice and their normative rights after being laid off by PTFI, a mining company that explores for ore containing copper, gold, and silver in the Grasberg minerals district in Papua Province.

PTFI, which employs some 30 thousand people, was quoted on its official website as saying that it will "ramp up production from two new large-scale, high-grade underground mines" over the next two years.

"We expect production in the Grasberg District to be double the 2019 levels by 2021," CEO of Freeport-McMoRan Copper & Gold Inc. (FCX) Richard Adkerson was quoted as saying.
sumber : Antara