Wiranto says some other aspects should be further considered in releasing Baasyir.
REPUBLIKA.CO.ID, JAKARTA -- Indonesian Government has not reached its final decision on the unconditional release of convicted terrorist ustaz Abu Bakar Ba'asyir. In fact, the Government is to further review the release.

"On humanitarian grounds, the President really understands the family's request. However, some other aspects should also be considered," Coordinating Minister for Politics, Law and Security Wiranto said during a press conference at his office, Central Jakarta, Monday (Jan 21).

Wiranto explained the aspects to be considered are state ideology Pancasila, Unitary State Republic of Indonesia, and laws. Therefore, he said that President Joko Widodo has ordered relevant officials to conduct further review.

According to Wiranto, actually the family of Ba'asyir has submitted a request for the release of the cleric in 2017. The request was submitted with consideration of age and the deteriorating health conditions of the convicted terrorist.

Wiranto did not answer clearly to the reporter's question when asked whether Ba'asyir will be released or not. The press conference was held in a sudden, on Monday afternoon.

"This is my official statement following a review and a coordination meeting with all relevant officials," he explained.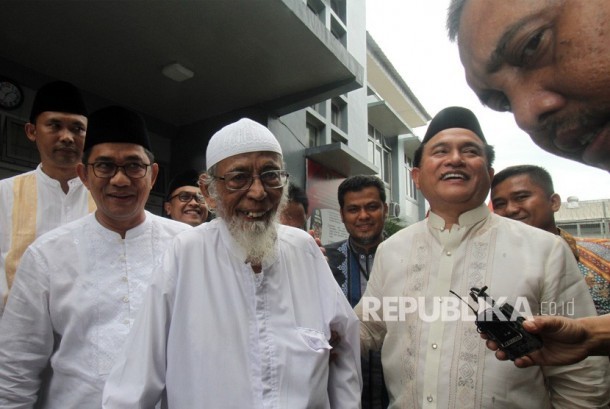 The president's attorney Yusril Ihza Mahendra (right) visits convicted terrorist, ustaz Abu Bakar Ba'asyir (center) at Gunung Sindur Prison, Bogor, West Java, Friday (Jan 18).
Previously, President Joko Widodo (Jokowi) emphasized that Ba'asyir was given release based on humanitarian grounds. The president, who assigned his attorney Yusril Ihza Mahendra to seek the release of Ba'asyir, confirmed that the age and deteriorating condition of the convict's health was the main consideration.

"Yes, the first (consideration) is indeed a humanitarian reason," Jokowi stated after reviewing the Muhammadiyah Islamic Boarding School's Flats in Nglampangsari Village, Cilawu, Garut, on Friday.

The president said the release had gone through after lengthy contemplation for about a year. He also paid consideration on security aspect.

"It was a prolonged period of consideration, in terms of security, with the chief of Police, experts, and finally with Pak Yusril. However, the process will be with the National Police chief," he noted.