11 days after the Lion Air JT 610 aircraft crashed, 51 victims have been identified.
REPUBLIKA.CO.ID, JAKARTA -- The police have identified 51 victims of the Lion Air JT 610 plane. The figure was reached 11 days after the aircraft crashed into the Karawang waters of West Java.
"Last night, we had identified seven other victims. We had earlier already identified 44 victims, and this has brought the number to 51," a spokesman of the Indonesian Police Senior Commissioner Sulistyo Pudjo Hartono stated here on Thursday.
Of the identified victims, 40 are males and 11 are females. The Disaster Victim Identification team has received 185 body bags from the search and rescue team, and it has collected DNA from 609 samples.
Hartono remarked that the government had offered psychological assistance to the families of the victims. He noted that the number of body bags was not indicative of the number of bodies found by the search and rescue team, as each bag might contain body parts of different victims.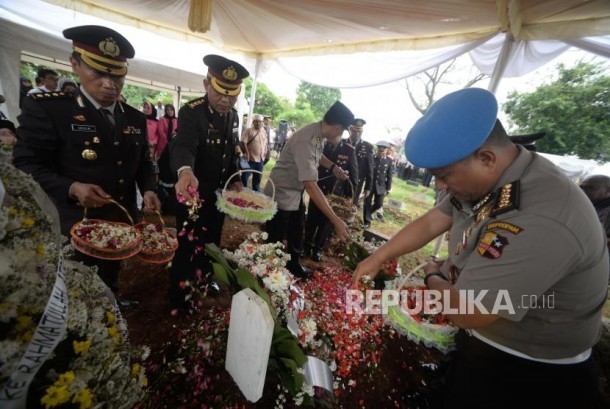 Police personnel sow flowers during the burial of their partner, Sekar Maulana who was one of the victims of crashed Lion Air JT 610, at Karet Bivak cemetery, Jakarta, Thursday (Nov 8).
Earlier, the National Search and Rescue (SAR) Agency (Basarnas) has extended its operations to search and evacuate the victims of crashed Lion Air JT 610 airplane. However, only the Basarnas team would continue to carry out SAR operations in the next three days.
It is unlike the initial 10 days of evacuation, which was conducted by joint team of various elements.
"We have decided to continue and extend the search and evacuation operations, specifically by the Basarnas team, for the victims for three more days," Basarnas Head, Muhammad Syaugi, stated at the International Container Terminal, Tanjung Priok Port, Jakarta, on Wednesday.
Aircraft type B737-8 Max with flight number JT 610 owned by Lion Air was flying from Soekarno Hatta Airport in Banten to Depati Amir Airport in Pangkalpinang and was reported to have lost contact on Oct 29 at around 06:33 WIB (Indonesia West Standard Time). The aircraft, which bore the registration number PK-LQP, was reportedly last sighted on radar at coordinates 05 46.15 S - 107 07.16 E.
The aircraft departed at 06:10. WIB and was scheduled to arrive in Pangkalpinang at 07.10 WIB. The plane had requested a return to base before finally disappearing from the radar.
The plane's wreckage and several body parts were found floating in the sea not far from Jakarta, but there were no survivors. Earlier, black box of Lion Air flight JT 610 has been found on Thursday (Nov 1), but the second was yet to be found.
sumber : Antara