Only the Basarnas team would continue to carry out SAR operations in the next 3 days.
REPUBLIKA.CO.ID, JAKARTA -- The National Search and Rescue (SAR) Agency (Basarnas) has extended its operations to search and evacuate the victims of crashed Lion Air JT 610 airplane. However, only the Basarnas team would continue to carry out SAR operations in the next three days.

It is unlike the initial 10 days of evacuation, which was conducted by joint team of various elements.

"We have decided to continue and extend the search and evacuation operations, specifically by the Basarnas team, for the victims for three more days," Basarnas Head, Muhammad Syaugi, stated at the International Container Terminal, Tanjung Priok Port, Jakarta, on Wednesday.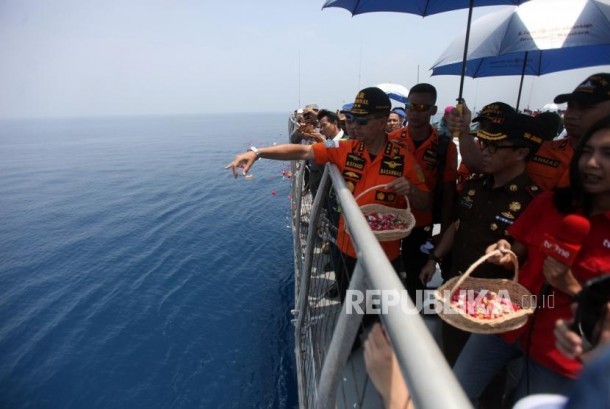 Basarnas Chief Muhammad Syaugi sow flowers to the victims of crashed Lion Air JT 610 in Karawang waters, West Java, Tuesday (Nov 6).

He thanked the non-Basarnas SAR elements for their dedication in the evacuation process. According to him, the joint team has high determination and good synergy in the SAR process, so that it could evacuate most of the victims, which accounted for 186 bodies, since Wednesday.

"We, from the Basarnas, thank the SAR elements, including members from the military (TNI), police (Polri), state-owned oil firm Pertamina, Sea Security Agency (Bakamla), Customs, Coastal Guards (KPLP), Water Police (Polair), and volunteers, for their dedication. I am proud of them," he remarked.

Syaugi noted on Tuesday that the decision to continue the search and evacuation activities for victims of the Lion Air JT 610 plane crash will be taken on Wednesday noon.

"We will see the progress of the search today and tomorrow morning. At noon, we will decide whether the search and evacuation activities will be continued or stopped," Syaugi explained.

The decision will be taken based on the number of discoveries. If the number of discoveries increased, the search will be continued, but if it is decreasing, the efforts to search the victims will be ended. "We will continue to strive to find our brothers who are still missing," he remarked firmly.

Search for the cockpit voice recorder has not yielded results due to the low intermittent ping signal that is difficult to detect. The joint search team, strengthened by hundreds of divers along with the deployment of a remotely operated vehicle, was yet to recover one of the black box parts.

"(This was) even though we already had a spot for our focus to search for it," he stated.

"The signal is already very weak, but we expect it to be on the Southwest side around the debris of the fuselage. In addition, the mud on the seabed is very inhibiting. The thickness of the mud can reach 1.5 meters," Syaugi added.
sumber : Antara