Jokowi watched Asian Games closing ceremony in refugee camp in Lombok.
REPUBLIKA.CO.ID, SEOUL -- South Korea has lauded the success of Indonesian President Joko Widodo (Jokowi) and his staff in organizing the 2018 Asian Games. The biggest sporting events in Asia took place in Jakarta and Palembang from Aug 18 to Sept 2.

During his state visit to South Korea on Monday, Jokowi received congratulations for organizing the 2018 Asian Games. The Indonesian head of state received the congratulations at a meeting with the entrepreneurs of the "Country of Ginseng" in Berkeley Suite, Seoul Lotte Hotel, on Monday.

One of the entrepreneurs, Posco CEO Choi Jeong-woo, specifically appreciated Jokowi who chose to watch the closing of the 2018 Asian Games together with the people of Lombok. At that time, the Head of State was indeed in Lombok to review the process of the rehabilitation and rebuilding of people's houses and other public facilities.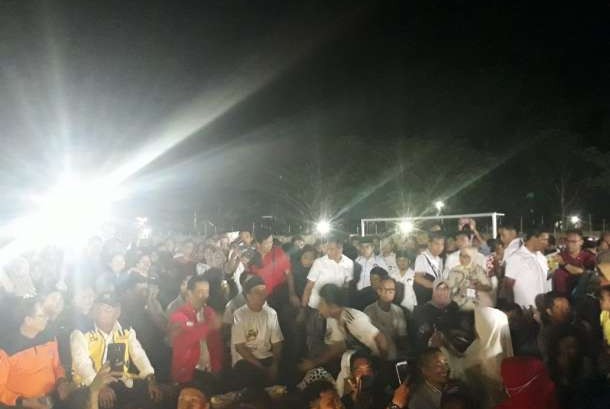 President Joko Widodo (Jokowi) and West Nusa Tenggara Governor TGB Zainul Majdi wathc the closing ceremony of Asian Games 2018 along with refugees at Gunungsari camp, West Lombok, West Nusa Tenggara, Sunday (Sept 2) night.

Jeong-woo revealed that the president was not at the closing ceremony of the 2018 Asian Games in Jakarta at the time, but was in Lombok with the earthquake victims. He also congratulated Indonesian contingent on achieving rank fourth, with the acquisition of 31 gold medals.

"Indonesia was ranked fourth, and this shows the potential of the country, meaning that Indonesia has great potential. Indonesia can become the fourth developed country in Asia," he noted.
Previously, President of the Olympic Council of Asia (OCA), Ahmad Al-Fahad Al-Sabah lauded Indonesian effort in organizing the event. "You did it. You realzied energy of asia," he said at the Bung Karno main stadium in Senayan, Jakarta on Sunday evening.

At the 18th Asian Games the Chinese contingent emerged as overall champion by grabbing 132 gold, 92 silver and 65 bronze medals. It followed by Japan with 75 gold, 56 silver, and 74 bronze medals.

South Korea is at the 3rd position with 49 gold, 58 silver, and 70 bronze medal. Meanwhile, Indonesia successfully reached the 4th place with 31 gold, 24 silver, and 43 bronze medals.
sumber : Antara