Earlier, the plan to install high-rank police officers as acting governor cancelled.
REPUBLIKA.CO.ID, BANDUNG -- Home Affairs Minister Tjahjo Kumolo installed Police Commissioner General Mochammad Iriawan as acting governor of West Java Province here, Monday, urging him to ensure the smooth election of a new governor.

"I hope the West Java acting governor, who I installed and took oath today, would maintain the neutrality of civil servants and help ensure that the election of the new governor and vice governor in the next 10 days is a success," he remarked at the ceremony.

He noted that the acting governor had two main duties in the form of ensuring effectiveness of the administration and success of the election of a definitive governor and vice governor.

"In the framework of ensuring effective regional administration ahead of the election, the acting governor must immediately conduct intensive communication with the provincial legislative assembly and the leadership of all regional administrative organizations to ensure that the realization of all regional government programs will improve the welfare of the people," he noted.

"The acting governor is not a political official, so he must have more capacity and freedom to ensure that all civil servants and military (TNI) as well as police members remain neutral in the simultaneous regional elections 2018," the minister stated.

The acting governor, as the representative of the central government, must be able to coordinate with district heads and city mayors in realizing the presence of the state in the community reflected in the form of smooth public services.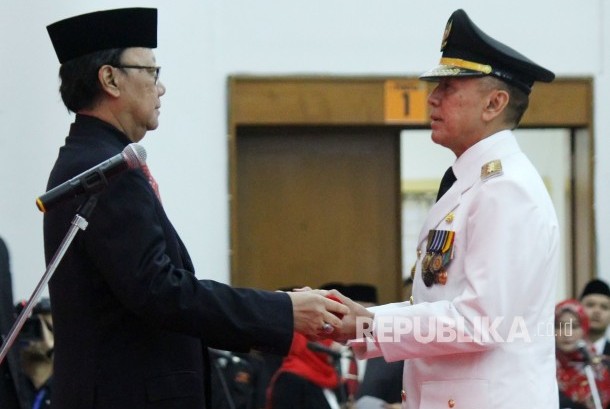 Home Affairs Minister Tjahjo Kumolo (left) installs Mochamad Iriawan as acting governor of West Java, at Merdeka Building, Bandung, West Java, on Monday (June 18).
To ensure smooth implementation of the regional election in West Java, the minister has called on the acting governor to coordinate with the regional election commission, regional election supervisor, TNI, and police. "I hope the acting governor would coordinate with the regional legislative assembly in case technical policies would be adopted," he noted.

A total of 171 regions in the country will hold elections simultaneously on June 27 to elect new governors in 17 provinces, new mayors in 39 cities, and new heads in 115 districts.
Earlier, Iriawan's name has been mentioned to fill in the position of acting governor since January. He was still serving as assistant to police chief of Operations Division (Asops) Inspector Geneneral at that time. The government also had planned to appoint Inspector General Martuani Sormin as acting governor of North Sumatra.
However, the plan has triggered a controversy as many parties opposed it out of concern that it would affect the police neutrality in pilkada.

In February, the government then cancelled the plan to appoint two active high-ranking officials as acting governors of West Java and North Sumatra, respectively, as the incumbents are running for the second term.
sumber : Antara