Supreme Court has rejected Ahok's judicial review on Monday.
REPUBLIKA.CO.ID, JAKARTA -- Basuki Tjahaja Purnama "Ahok" attorney, Fifi Lety Indra was reluctant to respond Supreme Court decision on his client's judicial review. Fifi who is also Ahok's sister only said that she was aware that Supreme Court's decision drew a lot of attention from the media.
"The news today is full of Ahok's judicial review rejected by Supreme Court," she said in Belitung Island on Tuesday (March 27).
However, Fifi refused to comment further. She prefered to quote a verse from the Bible to explain her thoughts.
"I know the plans I have for you, declares the Lord," Fifi quoted Jeremiah 29:11.
Ahok thorugh his lawyer team has filed judicial review on February 2. It was his effort to challenge North Jakarta District Courts ruling on his blasphemy case.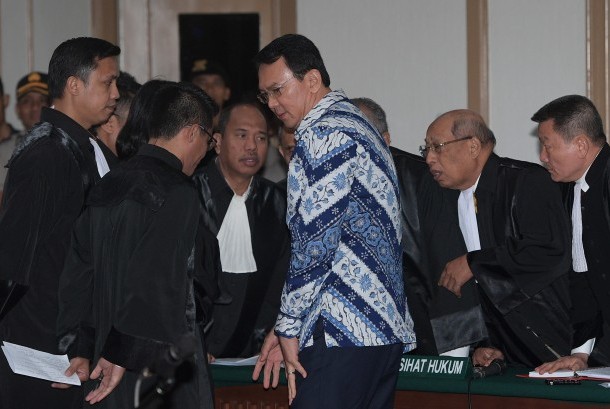 Convicted blasphemer Basuki Tjahaja Purnama "Ahok" (blue batik) talks to his team of lawyer after the judge read the verdict on May 9, 2017.
Earlier, Ahoks lawyer, Josefina Agatha Syukur said Ahok wanted to ask for a review to lighten up the two years confinement verdict based on Buni Yani's verdict. The former Jakarta governor has been jailed at National Police's Mobile Brigade Command Headquarters (Mako Brimob) in Depok since May 2017. He was sentenced for his blasphemous statement regarding al Maidah 51 Quranic verse.
On Monday (March 26), Supreme Court decided to reject the case review petition to challenge the North Jakarta District Courts ruling that sentenced Ahok to two years imprisonment over blasphemy. MA said all of the reasons in filing case review could not be justified.
"Yes, it was rejected this afternoon around 04:00 pm West Indonesia Standard Time," spokesperson of the Supreme Court, Suhadi said to Republika.co.id, on Monday (March 26).