Jamaah Ansharut Daulah was responsible to a series of bombings in Indonesia.
REPUBLIKA.CO.ID, JAKARTA — South Jakarta District Court held inaugural session of dissolution of Jamaah Ansharut Daulah (JAD), Tuesday (July 24). JAD was represented by its leader Zainal Anshori. During the session, Public Prosecutor Heri Jerman charged JAD as corporation of terrorist network.

"Based on Article 85 Criminal Code, dated July 10 2018 on admission of the South Jakarta District Court to terminate the crime on behalf of JAD, then the court has authority to try this case," said Heri on Tuesday (July 24).

Heri explained JAD established in 2014 in which Aman Abdurahman summoned Marwan aka Abu Musa and Zainal Anshori. Then, Aman also conveyed several things, one of those was about the establishment of Islamic caliphate with a oath of allegiance (baiat) to the leadership of ISIS' Abu Bakar Al Baghdadi.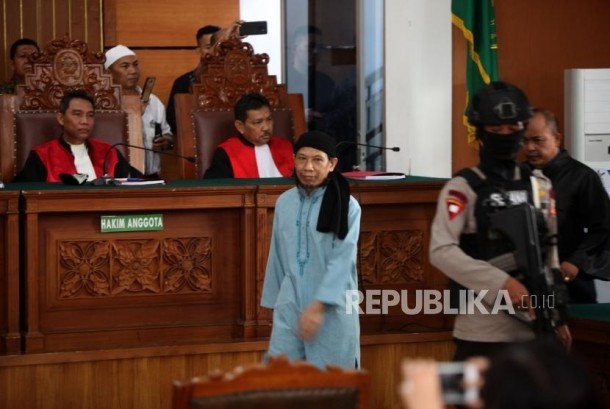 Oman Rochman alias Aman Abdurrahman (center) gets death penalty in a hearing at South Jakarta District Court, Jakarta, Friday (June 22).


After the meeting, Aman assessed the necessity to gather the strength of people in Indonesia as a supporter of the Islamic caliphate. He also appointed Marwan alias Abu Musa and Zainal Anshori who has many followers to embrace supporters of the caliphate in Indonesia.

The group then was named by Marwan as Jamaah Ansharut Daulah or JAD to accommodate a wide-spread Caliphate supporters in Indonesia. Heri said the main goal of the group was to support daulah Islamiyah or Islamic state in Syria by implementing da'wah with hijrah and jihad.

After JAD was formed, Zainal Anshori and Marwan made organizational structure in November 2014. Then they appointed the amir or representative in each region until finally had a meeting.

Heri revealed that in the event Marwan said he would deploy a national daulah where Marwan appointed Zainal Anshori to be the committee and replace him to leave for Syria to fight with Islamic State (IS) group. In the daulah, the amir must perform tauhid and hijra.

"JAD supporters are motivated by ZA as chairman and made terror acts, such as bombings in Samarinda, Thamrin Jakarta, and Kampung Melayu," Heri said.