Govt: Fasting month starts on Sat
Friday, 20 July 2012, 01:53 WIB
Komentar : 1
Republika/Agung Supriyanto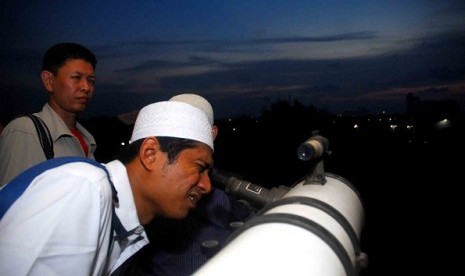 REPUBLIKA.CO.ID JAKARTA – Ministry of Religious Affairs announced that the first day of fasting month started on Saturday, July 21. The decision was deliberately taken after a number of Muslim organizations convened on Thursday evening.
"The first day of Ramadhan falls on Saturday, July 21. Is it agreed?" Minister of Religious Affairs, Suryadharma Ali said to the audience who quickly voted "yes".
The government also announced that in 25 monitoring posts at Thursday evening, the new moon was still invisible. The decision of the first Ramadhan was taken after extracting inputs through hearing session with 17 Muslim organizations. Nevertheless, two organizations namely Islamic Islamic Defender's Front (FPI) decided to start Ramadhan on Friday after witnessing new moon from their monitoring point in Cakung, East Jakarta.
Meanwhile, those organizations convened without Muhammadiyah, one of the main Muslim organizations in Indonesia. Based on some considerations, the organization decided the first Ramadhan falls on Friday or a day earlier than the government's version.
Adressing the difference on starting the first day of Ramadhan, Chairman of Central Board of Muhammadiyah Professor HM Din Syamsuddin expects all sides to respect each other. He believes that differences are a blessing to establish unity and conformity among Muslims. Therefore, such differences must not trigger any conflict among Indonesian Muslims.
Islamic year or called as Hijri, is basically a lunar calender and consist of 12 lunar months. The new day start from evening and one year consist of 354 or 355 days. And now the current Islamic year is 1433 AH.
Barangsiapa tidak meninggalkan kata-kata dusta dan perbuatan dusta maka Allah tidak butuh ia meninggalkan makan dan minumnya ((HR Bukhari))