JAKARTA -- The leaders of Indonesia's two largest Islamic organizations, Nahdlatul Ulama and Muhammadiyah, reiterated their support for the resistance of Hamas fighters in Palestine. The assertion responds to statements by some religious figures who consider Hamas the fruit of an Israeli zionist conspiracy.
PBNU Chairman for Religious Affairs KH Ahmad Fahrurrozi or Gus Fahrur said the statements were erroneous and showed a misunderstanding of the conflict in Palestine. According to Gus Fahrur, the people who issued such statements could have contaminated the way of thinking of the United States and Israel's supporters. He stressed that the existence of Hamas has become very important in the struggle for Palestinian independence.
"Hamas is against Israel's tyranny, because Israel continues to occupy and seize Palestinian land. If there is no Hamas, Israel will become even more hostile to the Palestinians," Gus Fahrur told Republika on Saturday (11/11/2023). If there were no Hamas, Israel would be more and more hostile to the Palestinians.
Gus Fahrur said Israel was inconsistent with the two-state concept and the UN resolution on an independent Palestinian state. Until now, Israel has continued to launch attacks on Palestinian civilians, public facilities, to hospitals in the Gaza strip. Therefore, according to Gus Fahrur, any attempt to counter Israeli iniquity must be fully supported. "Any effort against Israeli oppression must be supported by all circles of the international community in order to immediately stop the open war in Palestine," he said.
One support for the Palestinian people's struggle for independence is the boycott of products that finance and support the Israeli invasion. According to Gus Fahrur, the boycott of products that financed and supported the Israeli invasion proved effective in suppressing Israel.
"The boycott of Israeli products has proven to exert effective pressure on Israeli products and supporters of the state of Israel, even though it has not been done by everyone. But economic pressure proved to be effective enough to make them recalculate the war, because the cost of the war was partly derived from donations of Israeli sponsored company products," he said. Muhammadiyah Information Cooperation.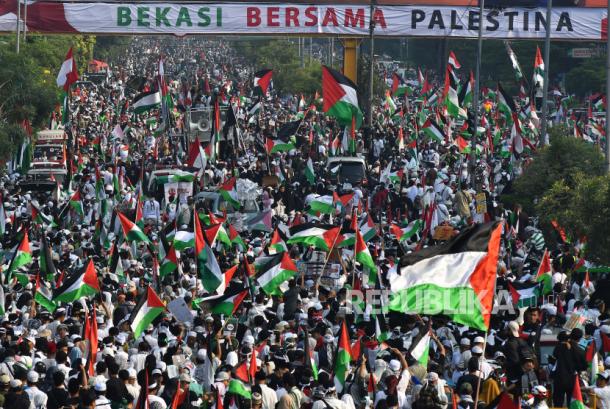 Chairman of PP Muhammadiyah Prof Dadang Kahmad, supports the independence struggle carried out by Hamas for Palestine. "Palestine has been colonized by Israel for 75 years, as the colonized people have the right to fight to liberate their country from colonization. Hamas is the freedom fighter of palestinian land that israel has already occupied that 75 years. As an Indonesian freedom fighter against Dutch colonization," Dadang said on Friday (10/11/2023). So the October 7 event was part of the Palestinian independence struggle," Dadang continued
Dadang said the product boycott was a form of public protest against Israel. But Dadang stressed that it is important to boycott products that come directly from Israel." Products directly imported from Israel are not products manufactured in Indonesia," he said.
Chairman of PP Persis KH Jeje Zaenudin affirmed that everyone speaks and behaves according to their level of knowledge and faith. According to him, if someone denounces Hamas and accuses it of being a terrorist, then hates and tries to destroy it, that is a picture of the limits of his knowledge and trust. As well as those who have so far considered it pointless to boycott Jewish products and no point in physical resistance, it is better to make a hijra to a safe place.
According to Kiai Jeje, it is also a picture of his knowledge and beliefs." I think most of those who are just happy to denounce, discredit, and blame the Palestinians are misinformed or have a wrong way of thinking," he said.
He suggested that those who disagree with the Palestinian struggle should introspect about the information obtained as to whether it is complete and authentic. They also need to have a way of analyzing and summing it up correctly. He asked not to recklessly speak to the public that caused controversy and division in the common society. Kiai Jeje invites the public to see the facts that are taking place amid the suffering and misery of the Palestinian people that have gone beyond the limits of humanity. He also invites people to think about the help we can give them in real terms, without having to condemn it here and there.
Indonesian Council of Dakwah Islamiyah (DDII) handed over aid worth two billion rupiah to the Palestinian community. DDII assistance was distributed through humanitarian agencies Hayir Kapilari and Ghirass, on Saturday (11/11), at the headquarters of the 8th Floor Dakwah Tower Building, Senen, Central Jakarta. This aid handover event is in conjunction with the Executive Work Meeting of DDII Solemn Period 2020-2025, in the framework of the preparation of the work program or activity plan and annual budget (RKAT) for 2024, which has been taking place since Friday (10/11). This meeting was attended by all DDII managers of the center.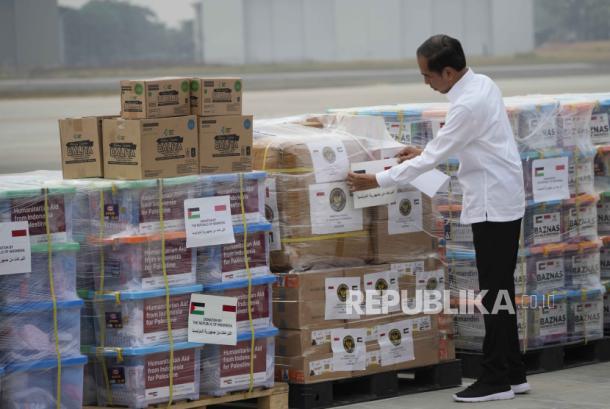 Adian Husaini, as general chairman of DDII symbolically handed over emergency humanitarian aid worth one billion rupiah to Sheikh Abdullah Sultan representing the Ghiras humanitarian team. Then, another billion for the construction of Ma'had Al Qur'an and Vocational School in Gaza, Palestine, to Shayeh Abu Iyyash representing the humanitarian team partners from Ghiras. The humanitarian agencies Hayir Kapilari (Turkey) and Ghiras (Lebanon) are professional institutions that have cooperated with DDII and have direct assistance programs to Palestine.
"The escalation of Jewish Zionist attacks and crimes has increasingly become and continues to violate the laws of war. This is the worst and is already beyond the bounds of humanity. Emergency assistance and the construction of educational facilities for them are essential to help them survive and for the good of their future. ," said Adian Husaini.
The DDII together with the Indonesian government, MUI, and the entire Islamic Ormas strongly condemn Israel's attack, which violates the laws of war, and constitutes a humanitarian crime as well as the annihilation of the Palestinian people (genocide). Aid is a form of DDII's alignment with donors to always be with Palestine and fully support the realization of Palestinian independence.
"We know how much Indonesia cares about the Palestinians, feels the pain of the Palestinians. The Palestinian people have lost much of their livelihood with the destruction of their homes and various public facilities, such as mosques, hospitals, power cuts and fuel supplies. Even places of refuge are targeted so that there is no safe place for them," Iyyash said.