Basarnas hopes evacuation process can be completed within the next two days.
REPUBLIKA.CO.ID, JAKARTA -- The National Search and Rescue Agency (Basarnas) has extended the period of evacuation operation to find victims of Lion Air flight JT 610 that crashed in Tanjung Karawang waters on Oct 29, for three days. The evacuation process has entered the seventh day on Sunday.

"After having dialogs and talks with the team, we have decided to extend the operation for three days. Hopefully, this operation could be completed within the next three days," M Syaugi, Basarnas chief, said here, Sunday.

The main focus of the operation is to evacuate the victims, and then to find the Cockpit Voice Record (CVR) black box by using a ping locator. The Basarnas divers found the Flight Data Record (FDR) black box last Thursday (Nov 1). The team is also still trying to find the plane's fuselage.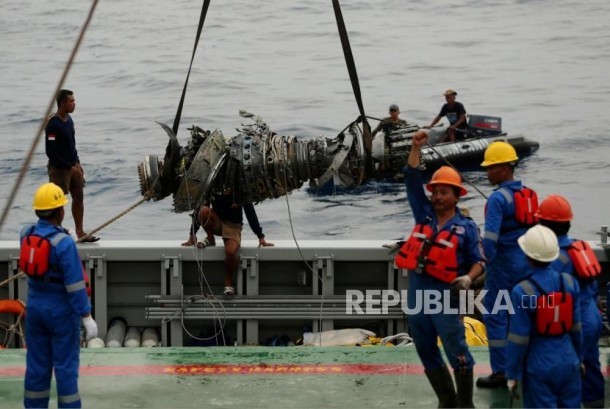 Lion Air JT 610 aircraft turbine found in Tanjung Karawang waters, Saturday (Nov 3).
Also read:
Jokowi instructs authority to tighten LCC safety management
* Jasa Raharja pays compensation to families of JT 610 victims
* Three more bodies of Lion Air crash victims identified
* Lion Air JT 610 black box found

The Basarnas team has so far sent 105 body bags containing body parts, to the Police Hospital in Kramat Jati, East Jakarta. The Police's DVI team has so far managed to identify seven victims and hand over their bodies to their respective families.
Meanwhile, a diver died during an operation to evacuate victims of the crashed Lion Air flight JT-610 in the Karawang waters, West Java, on Friday. The diver, identified as Syachrul Anto, died due to decompression, Commander of the Search and Rescue Task Force Colonel Isswarto stated here on Saturday.

"He dove longer than he had to. According to the schedule, divers had to come up at 4 p.m. WIB (Western Indonesia Standard Time), but he did it 30 minutes later," he revealed.

The body of the diver has been handed to his family. Spokesman for the National Search and Rescue Agency (Basarnas) Yusuf Latief confirmed Anto's death but stopped short of revealing the cause of the diver's death.

"There will be more valid information about this. Let us wait for it," he noted.

According to media information, Anto was rushed to the Koja Regional General Hospital in North Jakarta at 10:10 p.m. local time in an unconscious state without any response and heartbeat. The on-duty doctor at the hospital pronounced Anto dead at 10:30 p.m. local time.

The crash of the Lion Air flight JT 610 plane on Oct 29, 2018, claimed all 189 people aboard. The Boeing's 737 MAX aircraft plunged into Tanjung Karawang waters in West Java Province, after some 15 minutes taking off from Jakarta en route to Pangkalpinang, Bangka Belitung.

The aircraft carried 178 adult passengers, including an Italian national; three infants; six crew members; as well as an Indian pilot and an Indonesian co-pilot. Among the passengers were tens of civil servants including 20 officers of the Finance Ministry, six legislators of Bangka Belitung, and three police officers.

President Joko Widodo (Jokowi) ordered the authority to tighten safety management for low-cost carriers (LCC) following the JT 610 plane crash.
sumber : Antara