REPUBLIKA.CO.ID, KUTA -- When visiting Bali, Muslims tourists sometimes feel uneasy to eat at random food stalls or restaurants. They are wondering whether the food served there are halal.
De'dapoer Kuta restaurant has answered the challange by presenting halal cuisine.
De'dapoer Kuta, which is the part of Rhadana Hotels and Resorts has already owned halal certification from Indonesian Ulema Council (MUI) since first opened. There are no pork and lard nor other non halal substances at De'Dapoer Kuta's kitchen. As well as alcohol or wine, which possibly mixed when cooking.
There is no gelatin or other non halal ingredients in dozens of kitchen spice bottles. This made De'Dapoer became a favourite restaurant for all Muslim customers in Bali.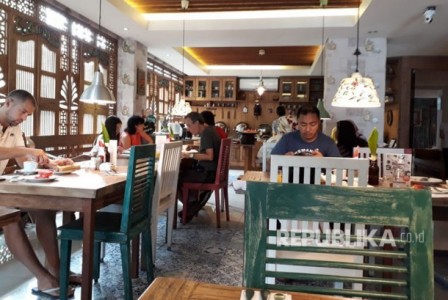 De'dapoer Kuta has owned halal certificate from LPPOM-MUI. The restaurant has been one of Muslim tourists favorite place to enjoy halal cuisine. Republika/Mutia Ramadhani
De'Dapoer Kuta has established since last year, 2016. Nevertheless, this place has become favourite restaurant for many communities, such as bloggers, people from companies. Including foreign tourists from many countries, such as Malaysia, Singapore, Saudi Arabia, Japan, Korea, and European countries.
De'Dapoer was designed to be more open to public on all around Island of the Gods (Pulau Dewata). Even though this restaurant also known as halal resturant, De'Dapoer didn't eliminate traditional elements of Bali.
Many elements of Bali, which knows predominantly Hindu society still could be seen at De'Dapoer. Such as the staffs attire.
De'Dapoer also maintained the concept of Indonesian home kitchen. Many of the restaurant menus were there since 20 years ago.
However, those menus then refined by reliable chefs by mixing original concepts of old Indonesian cooking recipes with a modern style. This was done in order to satisfy all De'Dapoer customers, both young and old.
"There is also a story and nostalgia about my mother in this restaurant, for example on the naming of the dishes," said Rainier H Daulay, owner of De'Dapoer Kuta.
De'Dapoer recommended menu are Sop Buntut Si Mpok, Fried Chicken Mamie, Nasi Goreng Kambing, and Nasi Campoer Tamblingan. Sop Buntut Si Mpok became most favourite one which very sought by customers.
The first outlet of De'Dapoer Kuta is located at Kuta Main Street number 88R, Badung, just inside the lobby area of Hotel Rhadana. Then the second outlet is located in front of Oasis Lagoon area of Sanur Hotel at Danau Tamblingan Street Number 136A.