Tabot Festival is one of the Wonderful Indonesia events of Tourism Ministry.
REPUBLIKA.CO.ID, BENGKULU -- Bengkulu Province has begun to hold an annual tourism agenda, namely the 2018 Tabot Festival, which will last for 10 days from Sept 11 to 20, 2018. Bengkulu Acting Governor Rohidin Mersyah stated in Bengkulu on Tuesday that the festival is one of the Wonderful Indonesia events of the Ministry of Tourism.

"This festival is not only a matter of cultural and religious rituals but also a potential asset for the development of the tourism sector," he remarked.

Tabot Festival, according to him, aims to introduce and develop a variety of arts and culture to be developed as a tourist attraction on the land of Rafflesia flowers, namely Bengkulu Province. In addition, this festival also serves as a forum for artistic and industry players to create and preserve local cultures.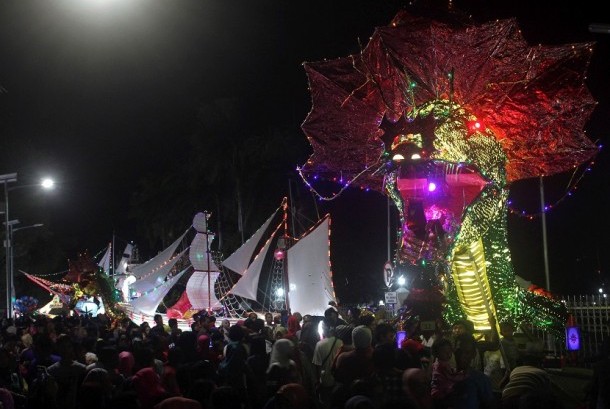 Tabot Festival in Bengkulu. (File photo)

"The festival is also one of the generators of economic development. The more about Bengkulu is known, the more attraction the province could have in the tourism sector. Thus, the tourist visits will increase, the circulation of money will be greater, and the economy of the local people will become more alive," he remarked.

Mersyah, therefore, once again opened the annual Tabot Festival on Monday night (Sept 10). On the next day, or the beginning of the festival, a series of events will begin with cultural arts performances, traditional 'dhol' music, and creative dance competitions.

The tabot ritual series, which started on Monday night, will start with a soil-taking ritual and be continued on Sept 14, 2018, with the Sit 'Penja' activity (a metal property ritual). The day after, it will be followed by Menjara I (procession ritual I), and Menjara II ceremony on the next day.

Other procession rituals called 'arak jari-jari' and 'arak sorban' will follow on Sept 17 and Sept 18, while on Sept 19, the ritual ceremony will present the 'Tabot Naik Puncak' (procession to the peak), 'Arak Gedang,' and 'Tabot Bersanding' (sitting side-by-side) procession rituals. The last day of the tabot festival will show the 'Tebuang' parade.

"There are other cultural arts activities held every day. These activities will be very interesting to watch, such as the fish festival and local ethnic performances," he revealed.
sumber : Antara