Buni Yani will serve a sentence of 18 months in jail.
REPUBLIKA.CO.ID, JAKARTA -- The defendant in the violation of the Electronic Information and Transaction Law (UU ITE), Buni Yani, said he would be executed on Friday (Feb 1) by the Depok District Attorney. Buni Yani will serve a sentence of 18 months in prison.
"Two days ago I received a call from the Depok District Prosecutor's Office, an execution will take place. I'm going to be jaild on February 1, Friday," said Buni Yani at the Ahmad Dhani Solidarity Action, at Gerindra Party's office, in South Jakarta, on Wednesday (Jan 30).
He also claimed to have receive a copy of the appeal from the Supreme Court (MA). "(This case) already have permanent legal force (inkrah). Today I received a copy of the Supreme Court's decisions which said cassation both filed by myself and the public prosecutor were rejected," he explained.
Also read: Three sentences that make Buni Yani suspect
He did not know to which prison he will be sent to. However, he considered the execution exceeded the authority of the prosecutor's office. He argued that the prosecutor's move was not in accordance with the Supreme Court's decision because in the cassation decision there was no order from the judge to the prosecutor to detain him.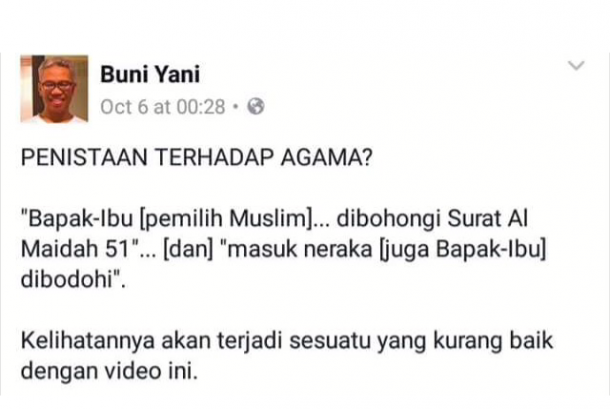 Three sentences that Buni Yani posted commenting the video of Basuki Tjahaja Purnama speech have made him suspect of defamation and provocative statement.
"Actually, the cassation from the Supreme Court has been inconsistent, it has permanent legal force. But, what was written in the cassation verdict, there was no mention of anything, whether the prosecutor can detain me or not. We will fight because we consider the prosecutor to exceed his authority," he explained.
Nevertheless, he will fulfill the summon as a good citizen. Buni Yani was sentenced to 18 months in prison by the Bandung District Court. Buni was found guilty of violating Article 32 paragraph of the Information and Electronic Transactions Law (UU ITE).
Buni Yani was charged with uploading a video on a statement of former Jakarta Governor Basuki Tjahaja Purnama (Ahok) about an alleged insult to Islam that triggered a mass rally demanding the prosecution of Ahok. He was also considered spreading provocative sentences about ethnicity, religion, race, and inter-group (SARA) through his personal Facebook account on October 6.