Jokowi has pocketed one name agreed by his coalition parties to be his running mate.
REPUBLIKA.CO.ID, SURABAYA -- Indonesian Democratic Party of Struggle (PDI-P) deputy secretary general Ahmad Basarah said incumbent President Joko Widodo (Jokowi) has the right to announce his running mate. Not only in determining the time and place of declaration, Jokowi also was welcomed by the coalition to reveal the name and criteria.
"It means the ball is on Jokowi's hand," said Basarah in Surabaya on Wednesday (Aug 1).
Basarah predicted Jokowi will announce his running mate in the end of 2019 presidential election registration period. Therefore, Jokowi will have more time and free from political psychology aspects.
Also read: Jokowi to decide his running mate within two weeks
"I guess Mr. Jokowi will announce his running mate at the last moment, before registration period end," Basarah added.
According to Basarah, Jokowi's coalition parties have agreed on one name to be vice presidential candidate. However, he did not want to reveal the name.
"So I assure there will be no political tension between Mr. Jokowi's coalition parties when the name is revealed," Basarah said.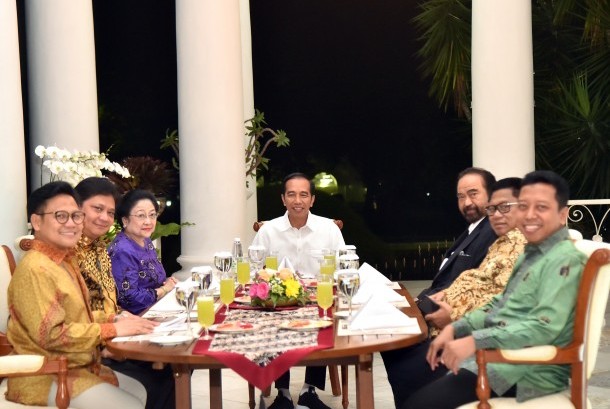 Incumbent President Joko Widodo holds a meeting with leaders of supporting parties at Bogor Palace, West Java, on Monday (July 23) night.
On July 24, General Chairman of the People's Conscience Party (Hanura) Oesman Sapta Odang noted that Jokowi will announce his running mate for next year's presidential election in early August. He said Jokowi and the coalition party leaders have come up with one name.
"We are just waiting for the official announcement that he will make around next week plus two or three days. He will do it at the appropriate time," he stated.
He noted that the leaders of the People's Democratic Party of Struggle, Golkar Party, PKB, Muslim-based United Development Party, National Democrat Party, and Hanura had agreed to let Jokowi decide his running mate.
Odang, however, was reluctant to clarify the name of the most potential running mate for Jokowi. He argued that the five coalition party leaders had pledged not to leak it to the public prior to official announcement.