#2019GantiPresiden volunteers to stage grand declaration on Sunday at CFD area.
REPUBLIKA.CO.ID, JAKARTA -- Jakarta Metro Police is reviewing the notice from volunteers of @2019GantiPresiden related to their activity on Sunday which is also Car Free Day in Jakarta. The event will be focused on Horse Statue Arjuna Wiwaha.
"We have received the notice," Head of Jakarta Metro Police Public Relations Argo Yuwono said in Jakarta on Friday (May 4).
Argo said the Intelligent and Security Directorate of Jakarta Metro Police will observe and clarify the notice filed by the people who promote movement to elect new president in 2019 election.
However, Argo explained that the Jakarta Provincial Government is the one who has the authority to issue the lisence to hold activity during Car Free Day.
Earlier, national volunteers of @2019GantiPresiden planned to stage a grand declaration on Sunday morning at around 09:00 am until 11: am in Car Free Day area. They will promote the movement to elect new president constitutionally.
The event is initiated among others by activist Neno Warisman. She denied the activity of @2019GantiPresiden volunteers classified as political agenda.
According to Neno, during the event, #2019GantiPresident to launch a website and guidebook. Some political figures will also convey oration.
"Around 300 people will attend the grand declaration of #2019GantiPresiden volunteer," Neno said.
Last Sunday (April 29), supporters of President Joko Widodo took to the street wearing t-shirt bearing hashtag DiaSibukKerja at Car Free Day area while the mass who wish to have new president in 2019 election wore t-shirt #2019GantiPresiden. Some members of Joko Widodo's supporters filed police reports against alleged intimidation from the contra group.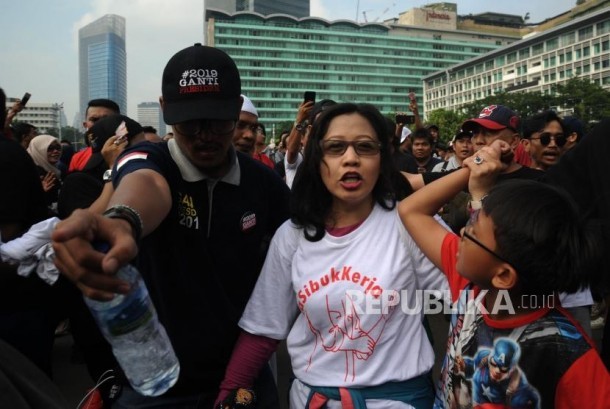 Susi Ferawati (white t-shirt) and her son walk through a crowd of people from the opposite political axis at Car Free Day, Jakarta, on Sunday (April 29).
Meanwhile, Deputy Chief of National Police Syafruddin said the police have made a mistake in handling the flow of those two groups in Car Free Day area. He said the police are obliged to prevent two opposite groups of mass not to blend in during Car Free Day in Hotel Indonesia Roundabout, Central Jakarta.
"The incidents of alleged intimidations could be avoided if the police have taken steps to assure that the group of #2019GantiPresiden mass would not meet with people who wear #DiaSibukKerja t-shirt in one point of crowd," he said on Wednesday (May 2).