President Klaus: Borobudur greater than pyramid
Sunday, 08 July 2012, 22:19 WIB
Komentar : 0
Antara/Regina Safri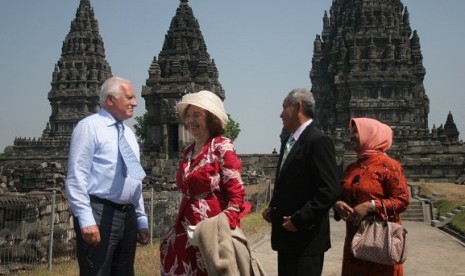 REPUBLIKA.CO.ID, MAGELANG - The renowned Buddhist temple of Borobudur in Magelang, Central Java, was greater than the Pyramid in Egypt, visiting Czech President Vaclac Klaus said on Sunday. "Borobudur temple is greater than Pyramid because its architecture is more complicated," Klaus was quoted by Youth and Sports Affairs Minister Andi Malarangeng as saying.
In the company of Andi Malarangeng, President Vaclac Klaus and First Lady Klausova visited Borobudur and Prambanan temples before having a state visit to his Indonesian counterpart Susilo Bambang Yudhoyono in Jakarta on Monday. Malarangeng said Klaus really admired the Borobudur temple which was built about 1000 years ago when there was no heavy equipment such as today's.
Meanwhile, Borobudur Tourism Park spokesman Pujo Suwarno said the Czech president's visit to the temple was expected to increase the number of tourists from his country. "Many East European tourists have been visiting Borobudur temple so far and we hope the number will continuously to increase following the visit by Mr Vaclac Klaus," Pujo said.
Visit Prambanan temple
Before visiting Borobudur, the Czech president and the first lady also visited Prambanan temple in Sleman district. He was in the company of Andi Malarangeng and Sleman district head Sri Purnomo.
Sleman Ancient Heritage Preservation House spokesman Muriyanto said the Czech president spent more than 30 minutes to see every corner of the temple complex including Brahmana Temple, Wisnu Temple, Wahana, and Nandi Temple. Prambanan Temple was closed for four hours to the public, due to Klaus's visit.
Barangsiapa mengobati sedang dia tidak dikenal sebagai ahli pengobatan maka dia bertanggung jawab((HR. Ibnu Majah))