UNESCO recognizes subak after 12 years of waiting
Saturday, 30 June 2012, 20:37 WIB
Komentar : 0
Republika/Agung Supriyanto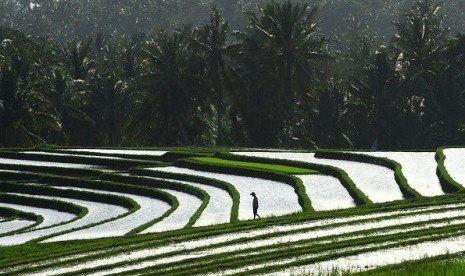 REPUBLIKA.CO.ID, MOSCOW – UNESCO finally recognizes Subak, Bali traditional farming and irrigation system, on its list of World Heritage Sites in the 36th meeting in St. Petersburg, Russia, on Friday. UNESCO says, subak will able to maintain the original culture of Balinese people.
The Spokesman of Indonesian Embassy to Moscow, M Aji Surya, said Subak Bali had been waiting for acknowledgement for over 12 years. Finally on this meeting, no one objects to the decision.
The Deputy Minister of Education and Culture, Windu Nuryantim admitted she was very happy after the acknowledgement. The Regent of Badung and Gianyar who also attended the meeting also seemed delighted with thousand meeting participants. "This is a historical moment," Nuryantim said.
Nuryanti added, subak was considered having outstanding universal values. Subak can also create social bond among the people in Bali.
Subak acknowledgement coincides with 40 years of World Heritage Convention. Started on 1972, the convention is international pact to conserve cultures and heritages in the world.
Adapun orang-orang yang kafir dan mendustakan ayat-ayat Kami, mereka itu penghuni neraka; mereka kekal di dalamnya.(QS Al-Baqarah: 39)