SBY concerns over the failure of South China Sea settlement
Monday, 16 July 2012, 23:45 WIB
Komentar : 0
Reuters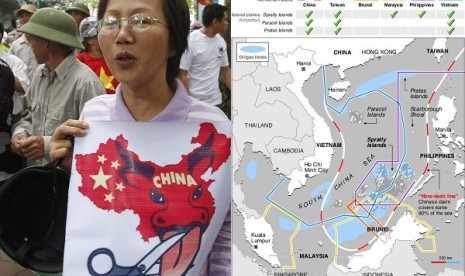 REPUBLIKA.CO.ID, JAKARTA - Indonesia's President Susilo Bambang Yudhoyono (SBY) is disappointed over the ASEAN ministerial summit which fails to issue joint communique on South China Sea. "As one of ASEAN countries' leader, I am disappointed and concerned," SBY said on Monday in Jakarta.
The summit was held in Phnom Penh, Cambodia. Until Friday, the ministers failed to issue joint statement over South China Sea disputes. Six countries –China, Taiwan, Vietnam, Malaysia, the Philippines, and Brunei- claim some part of whole territory of South China Sea.
SBY said the failure could aggravate the image of ASEAN. The world may see the failure as a discord within ASEAN countries.
He emphasized that the South China SEA dispute could emerge on ASEAN leaders Summit in November 2012 in Cambodia. He expects every country to discuss the problem peacefully. Every country should be oriented in reaching the agreement.
Indonesia, he continued, would actively involve creating peace within the region as it did on 2011 when the country was the chairman of ASEAN. At that time, Indonesia could lead several discussions to tackle the problems in Myanmar and dispute over the border between Cambodia and Thailand.
Adapun orang-orang yang kafir dan mendustakan ayat-ayat Kami, mereka itu penghuni neraka; mereka kekal di dalamnya.(QS Al-Baqarah: 39)