Malaysia plans to claim Palembang's songket
Thursday, 20 September 2012, 18:28 WIB
Komentar : 0
Antara/Feny Selly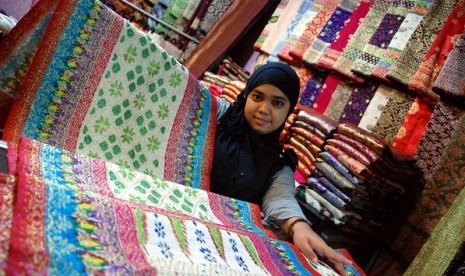 REPUBLIKA.CO.ID, PALEMBANG - Malaysia plans to claim Palembang's songket as its official clothes. Malaysia showed its effort by sending State Representative from Selangor, Malaysia, to Palembang, Indonesia, on Wednesday. Songket is fabric interwoven with gold or silver ornamentation.
Chairman of Selangor Malay Customs and Heritage Corporation, Shafie Abubakar, said he had studied the origin of songket telepuk (a kind of songket stamped with a gilt pattern from wooden blocks) and kelingan ornament (a flower ornament made from silver). The research says that the fabric was originally from Palembang.
The problem is Selangor has used the fabric and the ornament as its official clothes. As an initial step, Selangor Government will approach the craftsman of songket in Palembang through local government.
He hopes both parties can make an agreement. Selangor will duplicate the motif soon after Palembang Government permits.
Meanwhile, the Head of Culture and Tourism Department in Palembang, Thabrani, said related authorities must coordinate to consider the decision. Palembang Government will soon verify whether the motif has been patented or not as the fabric must be patented to give certain right of intellectual asset to Palembang.
Senyummu kepada saudaramu merupakan sedekah, engkau memerintahkan yang ma'ruf dan melarang dari kemungkaran juga sedekah, engkau menunjukkan jalan kepada orang yang tersesat juga sedekah, engkau menuntun orang yang berpenglihatan kabur juga sedekah, menyingkirkan batu, duri, dan tulang dari jalan merupakan sedekah((HR Tirmidzi))