The election has claimed the lives of polling station officers due to fatigue.
REPUBLIKA.CO.ID, JAKARTA -- Indonesia held the world's biggest and most complex single-day vote on April 17, 2019, where 192 million people queued up at some 810 thousand polling stations across its 34 provinces in the country and overseas.

Yansen Adrys David, heading Polling Station (TPS) No. 5 in Bengkalis City, Riau Province, passed away on April 20 of a heart attack, after working for two days at a stretch after serving several hundreds of voters on polling day.

In Bantan Tua Village, Bantan Sub-district, also Bengkalis District, Suratinizar, head of the TPS No. 2, lost his life in a traffic accident on April 18, 2019. There were indications that he may have been exhausted.
He returned home from the polling station at 2 a.m. local time (On April 18). He later headed to his office for work, and in the afternoon, en route home, he lost his life in a traffic accident.

Bengkalis General Election Office (KPU) Head Fadihilah Al Mausuly confirmed the deaths of two heads of the Bengkalis polling station working committees (KPPS) from exhaustion after clocking lengthy hours on polling day.

In Riau, five people were reported to have died in election-related incidents, while 13 officers fell ill from exhaustion. No less than three officers reportedly blacked out during counting of ballots in Pekanbaru, Kampar and Pelalawan District, Riau, respectively.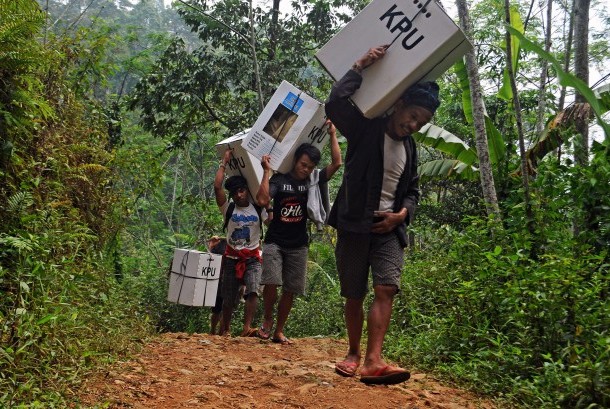 Members of the polling station working committees carry ballot boxes from polling stations (TPS) in the interior of the Baduy Tribe, in Kampung Cisaban, Lebak, Banten, April 18, 2019.
Rustam Efendi, secretary of the KPU office in Manokwari, West Papua confirmed that the electoral process was very exhausting because it took a long time and needed extra accuracy. "It took more than 10 hours to run a polling station, from the voting process and the ballot counting to the recapitulation of all the ballots," he noted.

The polling stations opened their doors at 7 a.m. local time and many finished the counting process at 4 a.m. or 6 a.m. and some even at 10 a.m. the following day. The election officers had a tough task because they had to serve voters and finish the counting of the ballots. They only had breaks for meals, while Muslims had prayer breaks, he said.

Basically, election officers had to work continuously for nearly 48 hours, as they had to arrange the logistics and facilities for the electoral process, one day prior to polling day. "They did not sleep well for at least two days and two nights as they were thinking about their tasks," he said.

On polling day, voters cast their ballot for the president and vice president, members of the House of Representatives (DPR), senators of the Regional Representative Councils (DPD), members of the Provincial Legislative Council (DPRD 1), and members of the District/Municipality Legislative Council (DPRD II).

Numerous voters were taken aback by the complex nature of the elections along with low knowledge on whom to elect, apart from the president and vice president. They were given five ballots of different colors.
In Pondok Gede, Bekasi City, West Java Province, for instance, a ballot for DPD has 50 pictures of senator candidates, while ballots of DPR, DPRD I, and DPRD II, bore pictures of 20 political parties in every ballot, and each party fielded nearly 11 legislator candidates.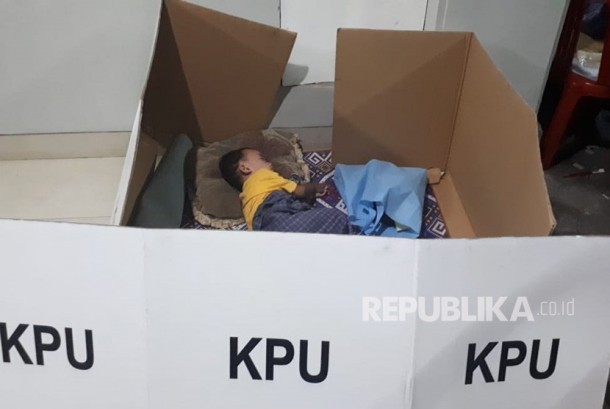 In order to guard the polling station at night, a mother who is also a member of the KPPS at TPS 01 brought her child to stay at the polling station. The mother stay at the TPS at night while the child rested.
With the polling stations closing down in the afternoon on voting day, officers had to begin counting votes that generally lasted until the next day. Throughout Indonesia, the death toll was 54 TPS officers and 10 police officers, while 34 others were reported to have taken ill from overwork, according to Viryan Azis, KPU Commissioner in Jakarta, April 22.

House Speaker Bambang Soesatyo has condoled the deaths of the election officers. "I convey my deepest condolences to the victims and their families. Their sacrifice in upholding democracy in Indonesia will not be in vain," Soesatyo said in a statement.

"The election system is complex and polling stations located in regions with a difficult terrain can result in exhaustion and physical pressures that are unavoidable. Organizing an election can be time-consuming and can even claim lives," he remarked.

He appealed to the government to compensate the families of those who lost their lives. The senior Golkar politician also urged local administrations to provide free medical services to election officers, police and military personnel, who fell ill during election duty.

"In fact, from the onset, they should have been covered with life and medical insurances. Families of the officers who are either sick or dead should have been helped by the State," he added.

While the duration of the campaign was seven months, the election process itself was complicated. The field officers were not covered by any insurance schemes, he noted.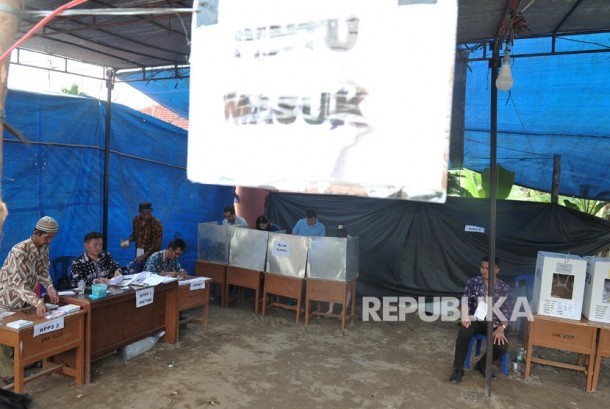 Residents conducted a follow-up vote in simultaneous elections in 2019 at 22 Payo Selincah TPS, Paal Merah, Jambi, April 18, 2019.
The government should learn a lesson from this year's elections and make a note for the future, he said. The public would like to see a better-organized election the next time, and this necessitates a change in the system, he stated. The changes must be carried out from top to bottom and safety of field officers must be made a priority, he added.

Sharing the House Speaker's view, Vice President M. Jusuf Kalla has sought to conduct an evaluation of the implementation of the election since it was labeled a complicated process. Kalla suggested that the 2024 presidential and legislative election should be held separately.

The just-ended elections were not only exhausting, but also allegedly marred by problems such as delayed delivery of election logistics, natural disasters, or cases of poll violations. Hence, Bawaslu ordered reelection to be held in the provinces of Banten, East Java, South Sulawesi, West Sumatra, Jambi, and Papua, among others.

The House Speaker appealed to the KPU, local KPUs (KPUD), and the Election Supervisory Board (Bawaslu) to ensure that revoting is conducted free of any violations and lapses. In addition, the Indonesian Rector Forum (FRI) has released a statement in which it has asked election executors to maintain neutrality and demonstrate the highest levels of commitment to work.

"Hence, we appeal to those tasked with executing the 2019 elections, specifically the KPU, Bawaslu, and the Honorary Council of Election Executors (DKPP), to remain self-reliant and neutral along with guaranteeing that the vote counting process is held in line with the existent regulations," FRI Chairperson Prof Dwi Aries Tina Palubuhu MA remarked April 22, 2019.

The FRI also appealed to the public to always put the nation's interests over and above those of particular groups or persons. The rectors also sought professionalism from the police and military in their work along with maintaining a neutral stance while putting the nation's interest above all.

They also called on presidential candidates and political parties to exercise patience as they await the outcome of the vote counting by the KPU. Meanwhile, the preliminary election result from the KPU's Ballot Count Information System (Situng) showed incumbent Joko Widodo (Jokowi) and Ma'ruf Amin securing 11,608,261 votes or 54.76 percent.

The pair of challenger Prabowo Subianto and Sandiaga Salahuddin Uno won 9,589,418 votes or 45.24 percent, according to Situng data monitored on the official KPU website, April 22 at 7:15 a.m. local time. The KPU Situng had made an entry of the ballots after referring to data received from C1 ballot count forms filled in by election officers at polling stations.

The commission has, until now, entered C1 form data from 111,572 TPS, of the total 813,350 TPS across countries and Indonesian representative offices overseas. The KPU will release the official results of the final vote recapitulation on May 22, 2019. Nonetheless, both presidential candidates' camps have declared victory in the elections. The voter turnout was expected to surpass 80 percent.
sumber : Antara