Jokowi says Staquf's visit to Israel is not part of Indonesiaan govt diplomacy.
REPUBLIKA.CO.ID, JAKARTA -- President Joko Widodo (Jokowi) said KH Yahya Cholil "Gus Yahya" Staquf's visit to give a lecture in an event held by American Jewish Committee (AJC) Global Forum in Jerusalem was not part of the Indonesian Government diplomacy. Indonesia does not have diplomatic relations with Israel and support Palestinian independence. Jokowi assured Staquf, who is a member of the Presidential Advisory Board was representing himself.

Earlier, Staquf said the lecture was cancelled but then it rolled on. Jokowi claimed to have read Staquf's speech. He also received information that Staquf was in the forum to promote peace and support the Palestinians.

However, the president has not got report on the result of the forum attended by Staquf who is also the general secretary of Nahdlatul Ulama. "I will summon him later," Jokowi said in Presidential Palace, Jakarta, on Tuesday.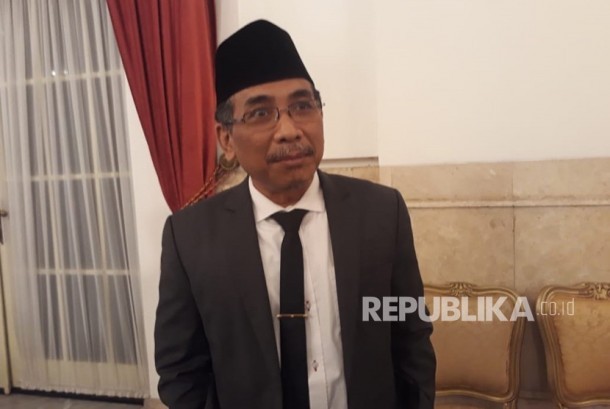 KH Yahya Cholil Staquf, member of the Presidential Advisory Board and general secretary of Nahdlatul Ulama.

Indonesian Council of Ulema did not support Staquf decision to visit Israel. KH Ma'ruf Amin said diplomacy should not be done by individuals, but the Ministry of Foreign Affairs.

Central Board of Nahdlatul Ulama (PBNU) also stated its stance in Palestine and Israel conflict. PBNU Chairman Said Aqil Siradj said the organization had been and will always be on the side of Palestine. "Kiai Staquf represents himself, not PBNU," Siradj said in a voice recording statement made available to the reporters on Tuesday.

The Islamic Resistance Movement Hamas condemned Staquf's visit to Israel. Hamas said it was a disgraceful act which is not only an insult to the Palestinian people and their sacrifices but for the Indonesian people and their long history in supporting the Palestinian cause.

Meanwhile, Fatah considered participation of Indonesian Muslim intellectual in AJC Global Forum in Jerusalem as a crime against Jerusalem, Palestine and all Muslims in the world. Fatah believed sitting with the Israeli colonizer is the same as fighting the Palestinian people.

"Participation of Yahya Staquf, general secretary of Indonesian Muslim organization Nahdlatul Ulama at the conference held in occupied Jerusalem is a betrayal of religion, al-Aqsa and ressurection, Palestinian people, the Arab and Islamic countries," Fatah spokesman Osama al-Qawasmi said in a statement as reporteed by Palestinow on Tuesday.

Fatah asked Indonesian government and pro-Palestinian officials and Indonesian people to hold accountable those who sell themselves to "demons" and want to be instruments in the the hands of Zionists and Israels.

Earlier, Staquf expressed hope that his presence at the AJC event would draw attention to the message of tolerance.

"Some people here are amazed at my decision to come, because they think it must be dangerous for me to come, thinking that many, many Muslims should threathen me with death or something," Staquf said on Monday.

In his lecture, Palestine and Israel conflict was not his only focus. He assesed inter-faith cooperation needed as the basis for resolving many conflicts. He put Myanmar as example. About 700,000 Rohingya Muslims have fled the persecution by the country's security forces to Bangladesh.

However, Gus Yahya remained aware of the magnitude of the Israeli-Palestinian conflict. "We are facing the problem of civilization here, and it is related to religion," he said.

"As Muslims, we want to do our part in relation to our religion."

He claimed to have identified parts of Islam that he considered problematic, including on how Muslims interact with non-Muslims. He stressed the need of a "new discourse" to acknowledge that Muslims and non-Muslims are the same and should be able to coexist peacefully.

"These elements are problematic because it is incompatible with the reality of our current civilization," he said.