Inaugural session of Ahok's judicial review has been scheduled on February 26.
REPUBLIKA.CO.ID, JAKARTA -- Basuki Tjahaja Purnama (Ahok)'s lawyer, Josefina Agatha Syukur said her client has filed judicial review against North Jakarta District Court's ruling on his blasphemy case. Ahok wanted to ask for a review to lighten up the two years confinement verdict.
However, Josefina refused to disclose Ahok's motive in filing judicial review. She would response the issue during the day of the judicial review trial. The trial scheduled to be held on next February 26.
"We cant give any response right now about judicial review. Later we will convey on the trial," said Josefina on Wednesday (Feb 21).
Moreover, Josefina said judicial review was proposed by Ahok himself. She also denied to ensure about Ahok's presence on the trial. She emphasized that her client has no obligation to present.
"I cant confirm about his presence," Josefina added.
Inaugural session of Ahok's judicial review will be held in North Jakarta District Court on February 26. Ahok has been jailed at National Polices Mobile Brigade Command Headquarters (Mako Brimob) in Depok since May 2017. He was sentenced for his blasphemous statement regarding al Maidah 51 Quranic verse.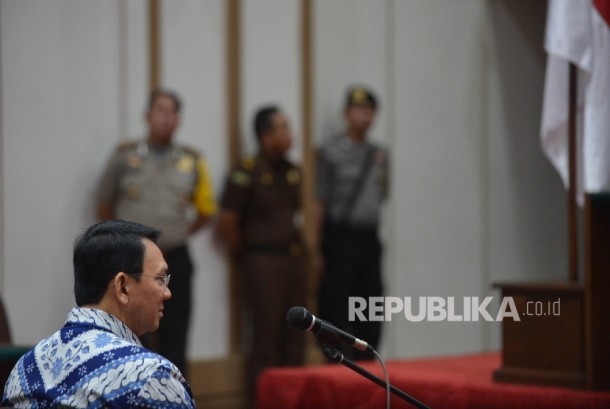 Basuki Tjahaja Purnama (Ahok) gets two years imprisonment over blasphemy. Judges of the North Jakarta District Court read the verdict at the Auditorium of Agriculture Ministry, South Jakarta, on Tuesday, May 9, 2017.
The judges in blasphemy case sentenced the defendant Ahok to two years imprisonment on May 9, 2017. "The defendant is proven guilty and convicingly in blaspheme the religion, related to surah Al Maidah," judge Dwiarso Budi Santiarto said when reading the verdict at Ministry of Agriculture's Auditorium, South Jakarta.
According to the judges, there were several points that incriminating the defendant. Firstly, Ahok did not feel guilty over his statement as an insult to religion. Secondly, Ahok's statement was harming religious harmony.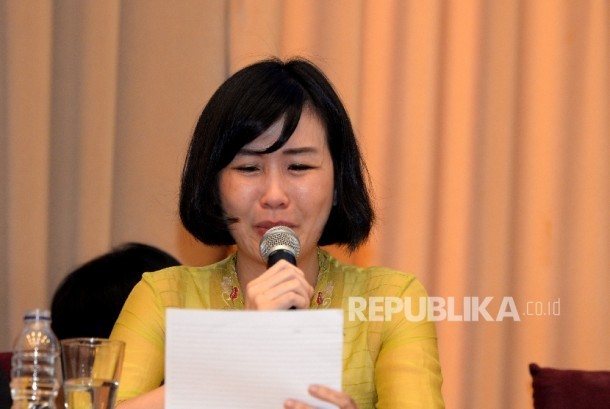 Veronika Tan reads his husband decision to revoke an appeal against the two-years sentence against Basuki Tjahaja Purnama (Ahok) in blasphemy case during a pers conference in Jakarta on Tuesday, May 23, 2017.
Ahok, former Jakarta governor, proposed an appeal against the verdict but then decided to drop it on May 23, 2017. Veronika Tan said his husband's decision was for the interests of all. "It is for the sake of all; the interests of all. It means we will not prolong the case. We will just carry out what has been decided," she noted.
sumber : Antara