Incessant heavy rain fell from Monday evening until Tuesday noon.
REPUBLIKA.CO.ID, MAKASSAR -- Parts of Makassar City were flooded following incessant heavy rain that fell from Monday evening until Tuesday noon. The local authorities distributed relief aid and were ready to evacuate the flood victims, Taufiek Rahman, head of the Makassar disaster mitigation office (BPBD), stated here, Tuesday.

Floodwaters reached height of up to 1.5 meters in Katimbang, Biringkanayan Sub-district, he noted. The local BPBD deployed nine rubber boats to assist in the evacuation process, particularly in the Kodam III and Antang Blok 10 residential areas.

Mayor of Makassar Moh Ramdhan Pomanto urged Makassar residents to remain vigilant during the current extreme weather that hit the city. He appealed to residents to stay indoors if they did not have urgent matters to tend to outdoors.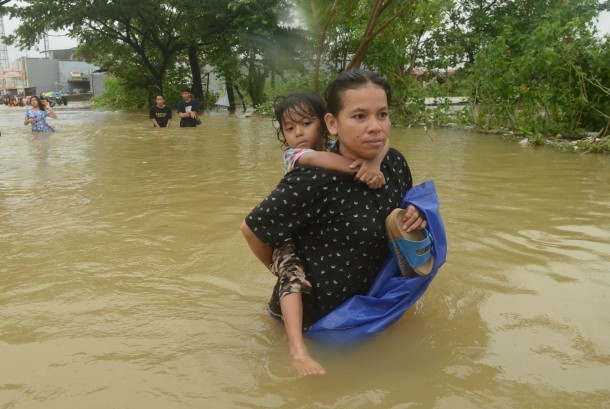 A mother evacuates her daughter at Paccerakkang, Makassar, South Sulawesi, Tuesday (Jan 22).

Several roads in the city were also inundated. Currently, Indonesia is experiencing the peak of the rainy season, so the Meteorology, Climatology, and Geophysics Agency (BMKG) has warned of possible hydrometeorological disasters.

The agency called on the people to remain vigilant, as Indonesia was currently experiencing the peak of the rainy season, Mulyono Rahadi Prabowo, the BMKG's deputy in charge of meteorology, noted in a statement, on January 17, 2019.

The condition in the Indian Ocean and the direction of wind indicated possible heavy rains, lightening, thunder, and strong wind, he remarked.

Flooding and whirlwind hit several provinces lately, including Lampung, West Java, Aceh, and West Sumatra. Following the warning, Speaker of the Indonesian House of Representatives (DPR RI) Bambang Soesatyo has called for vigilance against possible natural disasters.

Every district and city administration must consolidate and coordinate with its disaster mitigation office (BPBD) to adopt precautionary measures against natural disasters, he stated recently.

"Every regional head, whose region is prone to natural disaster, must remain vigilant and cautious. Every element in the BPBD must begin to conduct consolidation and take precautionary measures," he added.
sumber : Antara