Armed Criminal Group attacks, kills Istaka Karya workers in Nduga, Papua, on Dec 2.
REPUBLIKA.CO.ID, JAYAPURA -- Armed Papuan rebels would likely remain a serious security threat in certain areas of the central mountain range of the Indonesian province of Papua, Papua Police Chief Inspector General Martuani Sormin stated. The police have attempted to approach the armed groups to end the circle of violence but the effort has yet to yield success, he remarked while responding to local journalists' questions on this year's security situation in Papua Province.
However, owing to the presence of army and police personnel in the areas of the central mountain range that might potentially be threatened by what the police call "armed criminal groups," or "KKB," the frequency of security disturbances can be reduced. Sormin said those responsible for administering the areas are the governor and heads of districts, and the armed forces and police personnel could not conduct their duties without their support.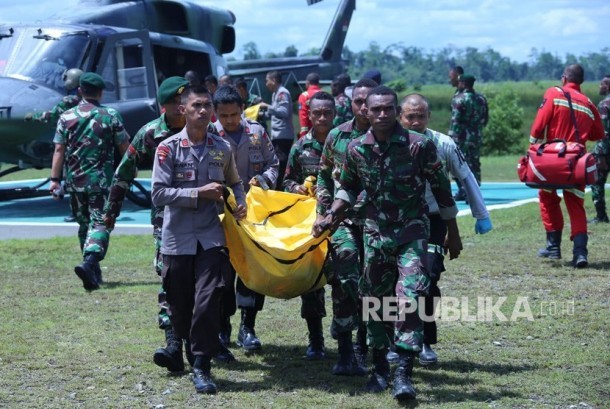 Evacuation of the bodies of victims of the KKB shooting in Nduga, Papua

.
Hence, in dealing with these security threats, he proposed that the "Regional Leadership Communication Forum," or "Forkopimda," be activated, so that necessary solutions can be sought together to all problems occurring in the regions. For those posing security threats and disturbances, the police will enforce the law against them, he noted, adding that the perpetrators would eventually be caught.
On December 2, 2018, a group of armed Papuan rebels had brutally killed 31 workers from PT Istaka Karya. The workers were engaged in construction and building the Trans Papua project in Kali Yigi and Kali Aurak in Yigi Sub-District, Nduga District, Papua Province.
Among the victims were Jepry Simaremare and Alpianus M, both employees of PT Istaka Karya, as well as Agustinus T, Carly Zatrino, Muh. Agus, Fais Syahputra, Yousafat, Aris Usi, and Yusran, all workers of PT Istaka Karya. The armed rebels, who launched the brutal killings, also killed a soldier named Handoko and injured two other security personnel, Sugeng and Wahyu.