Police have conducted non-technical investigation on Lion Air JT 610 accident.
REPUBLIKA.CO.ID, JAKARTA — The police have conducted non-technical investigation on Lion Air flight JT 610 accident. The result to be combined with technical investigation result carried out by NationalTransportation Safety Commission (KNKT).
So far, no element of sabotage or terrorism found in the accident. Non-technical investigation was done to seek number of factors that possibly caused the plane crash, among others the use of drugs, medical conditions and health conditions.
"Sabotage element has not been found, also terrorism," Dedi National Police spokesman Dedi Prasetyo added on Thursday (Nov 8).
Aircraft type B737-8 Max with flight number JT 610 owned by Lion Air was flying from Soekarno Hatta Airport in Banten to Depati Amir Airport in Pangkalpinang and was reported to have lost contact on Oct 29 at around 06:33 WIB (Indonesia West Standard Time). The aircraft, which bore the registration number PK-LQP, was reportedly last sighted on radar at coordinates 05 46.15 S - 107 07.16 E.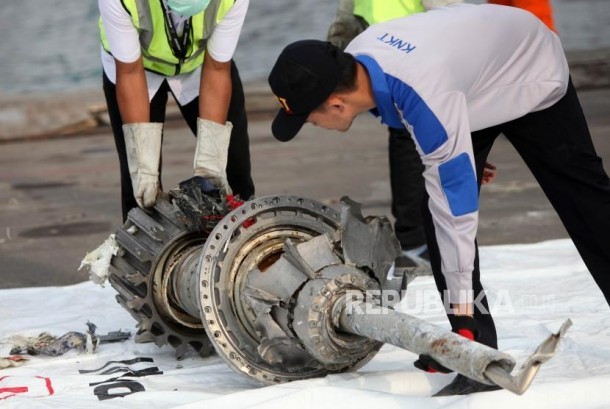 Debris of crashed Lion Air JT 610 was retreived from Tanjung Karawang waters in West Java and brought to Tanjung Priok Port, Jakarta, Wednesday (Nov 7).
Lion Air flight JT 610 carried 178 adult passengers, three infants, six crew members, a pilot of Indian nationality, and a co-pilot. Among the aircraft's passengers were an Italian national, tens of civil servants from the Finance Ministry and the Supreme Audit Agency, six legislators of Bangka Belitung, and three police officers.
The aircraft departed at 06:10. WIB and was scheduled to arrive in Pangkalpinang at 07.10 WIB. The plane had requested a return to base before finally disappearing from the radar.
The plane's wreckage and several body parts were found floating in the sea not far from Jakarta, but there were no survivors. Earlier, black box of Lion Air flight JT 610 has been found on Thursday (Nov 1), but the second was yet to be found.