It is not Erick Thohir if he does not create buzz and surprises.
REPUBLIKA.CO.ID,
By Intan Pertiwi, M Nursyamsi

State-Owned Enterprises (BUMN/SOE) Minister Erick Thohir brought a wind of change in his ministry office. Change, surprise, and breakthrough are important parts attached to the figure of Erick Thohir.

Erick just fired Garuda Indonesia President Director I Gusti Ngurah Askhara Danadiputra. The dismissal of the man who is familiarly called Ari Askhara following the opening of smuggling of used Harley Davidson motorbikes and two Brompton bicycles in the new Airbus A330-900 aircraft.

It is not Erick Thohir if he does not create buzz and surprises. When the public of the country yearned for national football achievements to shine again, suddenly Erick bought Inter Milan and became President of the Milan city club replacing Massimo Moratti, the figure of Italian football legend.

Erick also owns shares in the United States (US), DC United, and NBA basketball club Philadelpia 76'ers. Later, Erick did sell his shares in Philadelphia and Inter but continued to move by investing capital in the English Division 1 football club, Oxford United.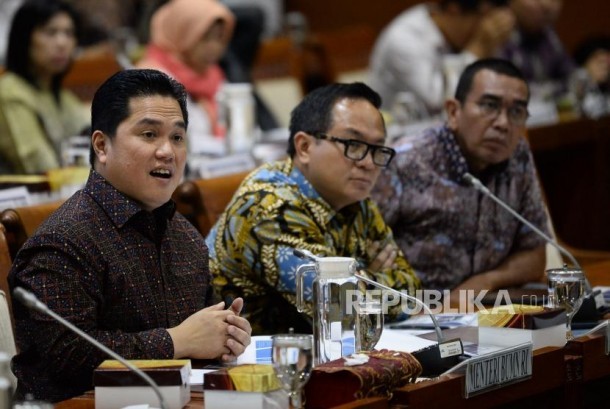 Erick Thohir: Minister of State-Owned Enterprises (BUMN) Erick Thohir accompanied Minister of Finance Sri Mulyani during a press conference at the Ministry of Finance Building, Jakarta, Thursday (5/12).
The trail of alumni of the California National University of America continues. As the Chairperson of Insagoc and Asian Games, Erick was able to give a surprise at the Asian-level grand sports party with an opening appearance that made me amazed.
Erick Thohir's surprises now come to the BUMN Ministry. Not without reason, the new minister gave Erick's Effect by making breakthroughs that break old traditions in the Ministry of BUMN. There are many reasons why a breakthrough must be made.
Erick leads the ministry which is the backbone of the Indonesian economy, houses assets of up to Rp 8,000 trillion, supervises 142 companies with only 15 profit, and contributes greatly to the opening of employment opportunities to social social programs.
BUMN has grown into an engine of economic growth in Indonesia. In addition to providing production factors for both goods and services, SOEs also become agents of nation development. SOEs not only open businesses, provide jobs, and gain profits, but also have high social responsibility.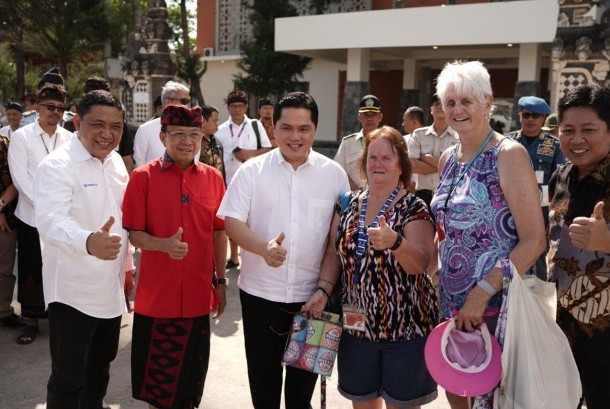 Erick Thohir: Minister of BUMN Erick Thohir visited Benoa Harbor, Bali, which is managed by PT Pelindo III, Thursday (11/28).
BUMN provide a lot of hope and at the same time open up opportunities for fraud if they are not managed properly. It is the spirit of
SOE
improvement that is managed honestly, transparently, and for the progress of the nation that makes SOE Minister Erick Thohir take a number of extraordinary and unexpected steps.
Erick and other ministers were appointed by President Jokowi on October 23, 2019. Shortly after the inauguration, Erick immediately made strategic steps. A shock therapy that was never predicted before by many groups, especially those working in SOEs.
The first breakthrough, Erick appointed two deputy ministers. Now Erick is accompanied by deputy ministers Kartika Wirjoatmodjo and Budi Gunadi Sadikin. Pak Tiko - Kartiko's nickname - previously Managing Director of Bank Mandiri and Budi Gunadi (BGS) was Managing Director of PT Inalum.
The appointment of these two wamen as part of Erick's steps to revamp the ranks of officials of the Ministry of BUMN. The goal, for the effectiveness and efficiency of the ministry. An effective and efficient bureaucracy is President Joko Widodo's mission.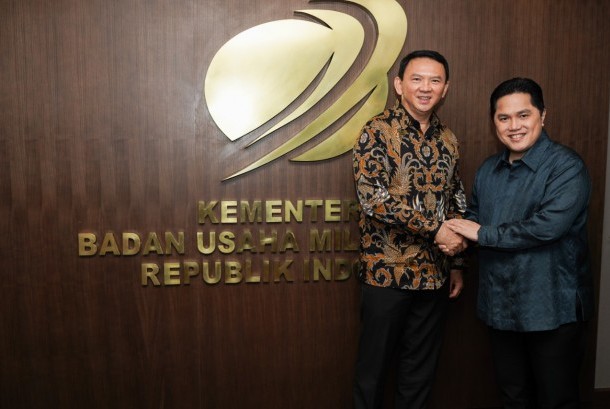 Pertamina: Minister of BUMN Erick Thohir together with Pertamina's Chief Commissioner Basuki Tjahaja Purnama or Ahok at the BUMN Ministry Office, Friday (11/22).
The second move, the SOE Minister added a new structure within the SOE Ministry, namely the inspectorate general (irjen) under the inspector general. The Inspector General had never been in the Ministry of SOEs before the era of Erick Thohir.
Inspector General of the Ministry of SOEs will be tasked with supervising, both internally the Ministry of BUMN and within the BUMN. The presence of the Inspector General is a form of Erick's efforts to realize good corporate governance.
Third, the Minister of BUMN restructured officials in his ministry. This means that Erick wiped out all echelon 1 officials. "The purpose of this restructuring is for the ministry to work more optimally and to become the locomotive of national development," Erick Thohir.
He emphasized that the Ministry of BUMN was not formed to extend the bureaucracy. Instead, the Ministry is there to help the corporations below it to be healthy and serve the community.
The former secretary of the ministry (sesmen) and the six deputies of the BUMN Ministry that were removed did not necessarily be eliminated, but were transferred as directors of a number of state-owned companies.
This decision is certainly a natural thing in refreshing the bureaucracy. Moreover, former BUMN ministers and deputies of the Ministry of SOE have been in that position for a relatively long time, thus requiring refreshment.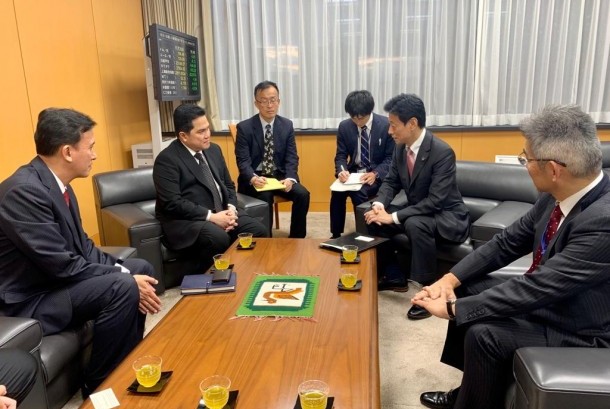 Erick Thohir with Japan Finance Minister: Minister of State-Owned Enterprises (BUMN) Erick Thohir held a meeting with Yasutoshi Nishimura, Minister of State for Economic and Fiscal Affairs of Japan, during his working visit to Tokyo.
"To be fresh, the people are still new, can be fresher to catch up. We are looking for people who can indeed run with us. If running means experience. If experience means we can look for it from other ministries," said the special staff of the Minister of SOEs, Arya Sinulingga.
The fourth breakthrough, Basuki Tjahaja Purnama alias Ahok entered Pertamina as the chief commissioner (komut). The SOE Ministry requires a battering figure in overseeing the duties of Pertamina's board of directors.
Ahok has the ability to conduct surveillance at Pertamina. Meanwhile, Pertamina's board of directors still needs people who have an understanding in the oil and gas business sector.
Ahok's other duties at Pertamina, encourage Pertamina to be able to reduce oil imports in various ways whether to make refineries or other ways. Erick also asked Ahok to encourage Pertamina to accelerate the development of new renewable energy (EBT) sectors.
The BUMN Ministry, as Arya said, had high hopes for the former Governor of DKI Jakarta. As a commander, said Arya, Ahok has full authority in carrying out internal oversight of Pertamina.
The fifth breakthrough, Erick appointed a former KPK commissioner, Chandra Hamzah, to be a commissioner at Bank BTN. At the same time, Pahala Mansury was appointed as BTN Managing Director.
BTN Corporate Secretary Achmad Chaerul said that the new line of management of Bank BTN is believed to be solid in leading the company. "We believe that Bank BTN under new management will be increasingly successful in carrying out its role both as a business entity and as a government agent in the success of the One Million Houses Program," Chaerul said after the Bank BTN EGMS in Jakarta, late November.
Sixth breakthrough, Erick introduced BUMN subholding, leaving SOE superholding. Erick will apply the concept of subholding to several state-owned companies.
He gave an example of subholding for the port industry which is currently being worked on by PT Pelindo I to Pelindo IV. With the concept of subholding, Erick stated that Pelindo might no longer implement branching based on its region, but rather its function.
Erick explained that Pelindo would be separated based on its function. There is a container port, there is rainfall. There must be no cannibals in the body of the company, "he said.
This subholding plan also allows the ministry to synchronize subsidiaries in a number of state-owned holding companies. One of them is a subsidiary of PT Gapura Angkasa.
Seventh, Erick is preparing BUMN Candy to arrange BUMN children and grandchildren. The Ministry of BUMN highlights children, grandchildren, great-grandchildren and descendants of BUMN. There are many children, grandchildren, and great-grandchildren of the country's companies that are made without a clear basis.
Erick ensured that in the future the Ministry of SOEs would not easily create children and grandchildren of the company. He considered that one of the heavy burdens faced by the SOE Ministry at this time was to bear many SOEs whose grandchildren were not profitable.
To be able to bring order to this, Erick will issue a regulation that will block the steps of SOEs to create a subsidiary. He does not want a healthy BUMN to be burdened by a subsidiary.
"We will make rules that will regulate the formation of SOEs' children and grandchildren. I do not want BUMN companies that are actually still healthy in the future undermined by individuals," Erick said in the House of Representatives, Monday (2/12).
With this regulation, said Erick, when SOEs want to make children or grandchildren need to explain in detail to the government the reasons for the establishment of such subsidiaries. Therefore, Erick explained that the Permen which would regulate the establishment of SOE subsidiaries would provide certainty for the establishment of SOE subsidiaries.
Eighth, Erick puts forward the principles of transparency, integrity, professionalism, focus, and good character for all BUMN Ministry stakeholders including all commissioners, directors and BUMN employees.
Erick said to manage BUMN assets of Rp8,200 trillion, he needed a compact work team and people who were not only smart, but also of good character.
He hoped that those in the SOE environment, both in the ministry and in the business units, were people with good morals. This means having high integrity and strong commitment.
The SOE Minister once made a strong statement regarding a number of SOE executives who had luxurious lifestyles when the SOE company he led was losing money.
According to him, that does not mean not being able to get something that is indeed feasible, but rather someone must have a heart and character.
When the company is losing money, the SOE leader must also live a concerned or simple lifestyle.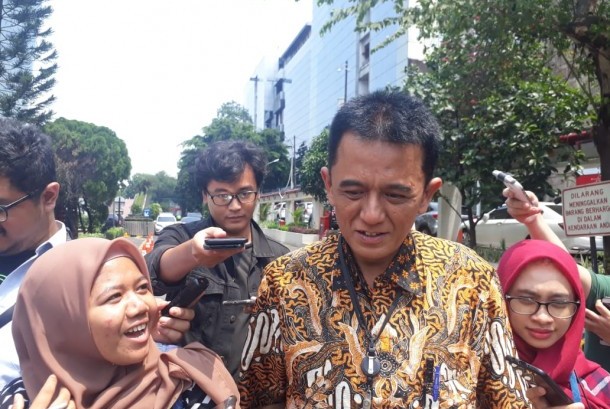 Involving KPK: Former Corruption Eradication Commission (KPK) official Chandra Hamzah after meeting Minister of State-Owned Enterprises (BUMN) Erick Thohir at the Ministry of BUMN Office, Jakarta, Monday (11/18).
The ninth, Erick wants SOEs to return to their core business (core). Erick explained that up to now many BUMN subsidiaries have been formed but are not in line with the SOE parent core business.
This, said Erick, is because the SOE parent often has to incur losses from the operations of subsidiaries or even SOE's grandchildren.
"We will bring SOEs back to the core business. One thing that makes it difficult is from the beginning the formation of a subsidiary is not focused on the core business," said Erick at Commission VI of the Indonesian House of Representatives, Monday (2/12).
Tenth, Erick showed his firm attitude regarding integrity and professionalism when deciding on the case at Garuda Indonesia.
The disclosure of the smuggling attempt of the Harley Davidson motorbike via Garuda Indonesia's Airbus A330-900 aircraft led to the removal of the president director, Ari Askhara. There are two letters that form the basis for SOE Minister Erick Thohir in making the decision to remove Ari.
Going forward, Erick's Effect with all the breakthroughs at the Ministry of SOEs is still not over. The public continues to wait for the minister's next steps in fixing hundreds of SOEs.