Indonesia-San Francisco Business Forum 2019 held in San Fransisco on Feb 20.
REPUBLIKA.CO.ID, JAKARTA -- The Indonesian government invited American investors to invest in the digital economy and the development of "10 New Balis", a plan that aims to replicate the economic effects of tourism in Bali nationally. Such an invitation was made during the Indonesia-San Francisco Business Forum 2019 in San Francisco on Wednesday (February 20).
The event was attended by 50 American businessmen, venture capital companies, technology companies, trade chambers, as well as the local government of the San Francisco Bay Area.

"This business forum was held to bring Indonesia closer to business and society in Northern California. The visit of President Joko Widodo in 2016 to the Silicon Valley reflects Indonesia's intention to develop a digital economy," acting Consul General of Indonesia at San Francisco Hanggiro Setiabudi said in a written statement on Friday.

Under the theme of "Invest in A Reformed Indonesia: Utilizing Digital Technology in Developing Regional and Tourism Investment Opportunities", the forum aimed to present the latest developments of the Indonesian economy, especially the potential sectors where foreign investors could invest in the digital economy and the development of tourism destinations.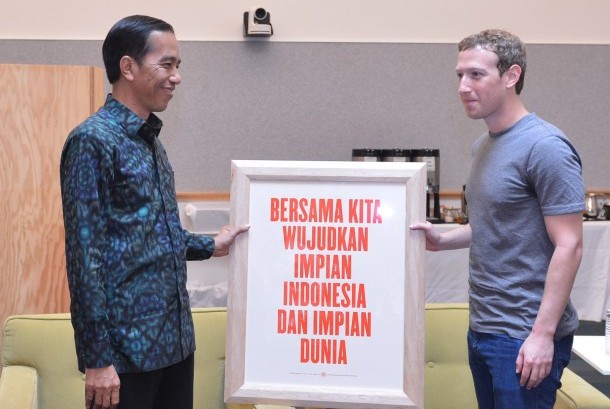 President Joko Widodo (left) meets Facebook founder Mark Zuckerberg during his visit to Silicon Valley, San Fransisco, United States in 2016.
The Indonesia Investment Promotion Center (IIPC) New York stated that in 2018, Indonesia's digital economy reached US$27 billion, including the largest and fastest growing in Southeast Asia. Google and Temasek estimated the value would grow to $100 billion in 10 years.

"This growth is also supported by the government through the 14th economic policy package which is to facilitate and expand access to tech funding for startups, tax incentives, consumer protection, and HR education," New York IIPC Investment Promotion Officer Rahardjo Siswohartono said.

To further strengthen cooperation, IIPC New York invited investors to attend the Regional Investment Forum (RIF) next March in the Indonesian province of Banten to meet directly with policy makers in the digital economy sector, exploring cooperation with dozens of tech developers, startups and tourism projects.

In addition to the development of the digital economy, including financial technology, the participants were very enthusiastic and further discussed the potential for developing Indonesian tourism destinations, including the development of supporting infrastructure and the air transportation sector.



sumber : Antara