KPU receives many inputs to evaluate presidential debate format.
REPUBLIKA.CO.ID, JAKARTA -- Chairman of the General Election Commission (KPU) Arief Budiman said that the Commission might change the format for the next debates of the presidential candidates. The change depends on the evaluation carried out by KPU.
"We can change it. It depends on the evaluation. KPU wants to achieve the goal of holding a debate," Arief said at KPU Building, in Jakarta, on Friday (Jan 18).
Arief explained, the purpose of holding presidential debate was to introduce the vision and mission of the two candidates. So, the technical of debate, including the methods and variations in implementation, could be modified.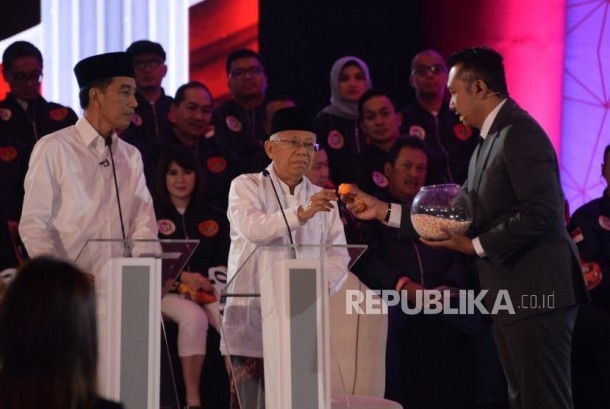 Presidential candidate number 01 Joko Widodo witnesses his running mate KH. Ma'ruf Amin chose the question's number from a fish bowl at the first round of presidential debat, Jakarta, Thursday (Jan 17).
"The method of debate is just the way to deliver it, but the main goal must be achieved," he said.
Arief admitted that KPU received many inputs in various technical matters such as the supporters of two candidate pairs who were allowed to participate in the front room. According to Arief, they were allowed to attend the debate based on the capacity of the room.
Presidential candidate number 02 Prabowo Subianto and Sandiaga Uno wave their hands to the guests of the first round of presidential debate in Jakarta, Thursday (Jan 17).
KPU also have received a number of inputs about duration of the debate. He stated, KPU received the inputs as evaluation materials in the implementation of the next debates.
"We will note every inputs. The experts (whom give inputs) didn't know about the durations, whether one minute or three minutes were enough for speaking," he said.
The first round of presidential debate 2019 was held on Thursday (Jan 18) night at Hotel Bidakara, Pancoran, in South Jakarta. The debate talked about law, human rights, corruption, and terrorism.
Political observer from UIN Jakarta Adi Prayitno considered that the first debate between presidential and vice presidential candidates was boring. Because, the two candidate pairs, both Joko Widodo-Ma'ruf Amin and Prabowo Subianto-Sandiaga Uno, could not elaborate on their policy proposals.