Jokowi again inspects handling of Lombok quake's impact on Thursday.
REPUBLIKA.CO.ID, CENTRAL LOMBOK -- Handling the impacts of natural disasters, such as earthquake and tsunami, could not be instant. It took more than a month or two, President Joko Widodo (Jokowi) stated.

"Do not imagine that it will be completed in one or two months. No," Jokowi stated at a meeting with the heads of the regions affected by natural disasters in West Nusa Tenggara (NTB) at the Lombok International Airport's VIP Lounge, here, Thursday.

Dealing with the impacts of natural disasters, such as those in Aceh, Yogyakarta, and Padang, took a year, he noted. "This is just to let you know, but if we want it fast, yes," he remarked.
Also read: Jokowi streamlines procedures of aid fund disbursement

He expressed hope that financial assistance for the earthquake victims in NTB could be disbursed soon for repairs to be conducted on the damaged homes. The head of state urged Public Works and Public Housing Minister Basuki Hadimuljono to present a comprehensive report on the progress in handling the damaged buildings in the aftermath of a series of earthquakes that hit NTB several weeks ago.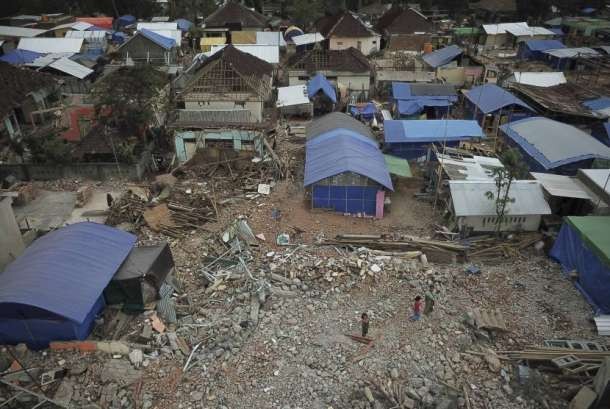 Aerial view of houses in Kekait Village, Gunungsari, West Lombok, West Nusa Tenggara, that were destroyed by earthquake, Monday (Oct 1).

"How many hospitals have been reconstructed, and how many school buildings, please tell us. Later, I will also ask Mr Governor and deputy governor as well as mayors to report on the distribution of funds for rehabilitation and reconstruction for the public," he noted.

The government has significantly cut short procedures for the disbursement of funds for reconstruction of houses, he remarked. Despite the simplification of the fund disbursement procedures, accountability remains important, he added.

Lombok was rocked by three powerful earthquakes respectively on July 29, Aug 5 and 9, 2018. The powerful magnitude-7 earthquake on Aug 5 devastated 75 percent of the buildings in North Lombok district.

The death toll on Lombok Island reached 555. More than 1,300 people were injured and nearly 353,000 have been internally displaced.
sumber : Antara