Amien Rais feels satisfied with police investigators performance.
REPUBLIKA.CO.ID, JAKARTA -- Senior politician Amien Rais met the summon of Jakarta Metro Police as witness for suspect Ratna Sarumpaet in hoax case. Amien was questioned for almost six hours.
However, Amien said the police investigators treated him honorably. The National Mandate Party (PAN) Honorary Council chairman was satisfied with the examination.
"Investigators come up with 30 questions, clear and direct questions," he said on Wednesday.
Amien arrived at Jakarta Metro Police headquarters at 10.15 West Indonesia Standard Time (WIB). He got the chance to eat lunch and prayers during the examination.
"The examination was very friendly and smooth," he said.
According to one of his lawyers, Elidanetti, police investigators asked Amien normative questions. Amien was asked about his relationship with the suspect.
Elidanetti said Amien explained that he met Ratna once at Prabowo Subianto's house in Hambalang, West Java. At that time, Ratna came to meet presidential contender Prabowo to clarified her assault incident.
Meanwhile, hundreds of 212 Alumni Brotherhood (PA 212) escorted Amien examination. They came to Jakarta Metro Police headquarters at 10.00 WIB. Police finally decided to let chairman of PA 212 and Amien's son Hanafi Rais to assist the examination after a long discussion.
Also read: Prabowo team prepares 300 lawyers to assist Amien Rais
Earlier, Amien found a number of irregularities in his summon. He said his name not stated fully in the summon letter. On the other hand, he felt weird to see the date the letter was prepared.
Amien brought a video of police statement as evidence. "In the video, we can see the police said this summon was based on Ratna's confession. The letter of summon was dated Oct 2, even though we all know that Ratna has just been arrested by police on Oct 4, so this is very weird," Amien said on Wednesday (Oct 10).
Head of Jakarta Metro Police Public Relations Setyo Wasisto explained that the date of the letter of summon against Amien was no ordinary. He said on October 2, West Java Metro Police have revealed that no evidence on Ratna assault claim.
At that time, Jakarta metro Police have conducted investigation. Therefore, on October 2, the police prepared the letter to summon Amien on October 5.
"On October 2, we have preliminary information that AmienRais was one of the figures who listened to Ratna confession and based on that we need to ask clarification," Setyo said in his office, Jakarta, on Wednesday.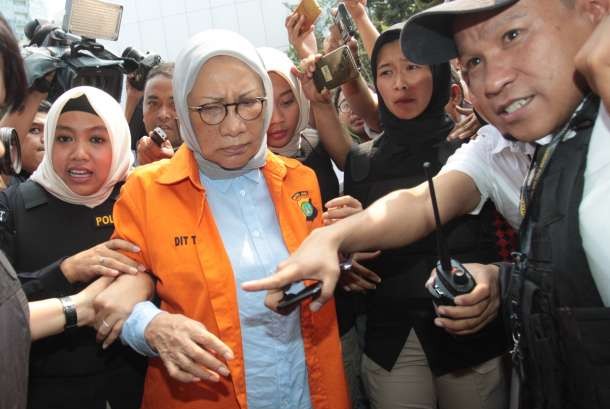 Suspect on hoax case Ratna Sarumpaet (center) escorted by police officers after performing psychological test at Jakarta Metro Police headquarters prison, Jakarta, Wednesday (Oct 10).
Fake assault case
The case started when Ratna who was one of spokepersons of Prabowo-Sandiaga campaign team decided to have cosmetic surgery on September 21 without any consent of her families. The next day, a picture of her with swollen face circulated on social media. To her families, she claimed it was a result of an assault happened in Bandung, West Java.
She kept her secret for a week. Ratna also hide the truth from her politician friends, including Amien Rais, Prabowo Subianto, and Fadli Zon. On October 2, Fadli tweeted about the assault and it catched public attention.
Later that night, Ratna met Prabowo and his national campaign team to clarified about the incident. Ratna did not tell the truth yet. Prabowo then stood for her, saying he would met national police chief to discuss the case.
According to chairwoman of the Prabowo-Sandiaga Uno campaign team, Nanik S. Deyang, the incident had taken place on Sept 21, near Husein Sastranegara International Airport. However, on October 3, police found out that Ratna had not been in Bandung that day, but at Jakarta hospital specializing in cosmetic surgery.
Ratna then admitted to have lied. She said pictures of her swollen eyes that went viral were the result of liposuction and apologized to Prabowo and public for her deception.
Jakarta Police arrested Ratna when she was about to take a flight to Chile at Soekarno Hatta International Airport, Tangerang, Banten, to attend international playwrights conference on Thursday (Oct 4). She was named as a suspect under Article 14 Law No. 1/1946 on criminal law regulations and Article 28 juncto Article 45 Law No. 11/2008 on Information and Electronic Transactions (ITE).