Zulkieflimansyah sworn as new NTB governor on Wednesday.
REPUBLIKA.CO.ID, JAKARTA -- West Nusa Tenggara (NTB) Governor Zulkieflimansyah has vowed to prioritize the reconstruction and rehabilitation of damaged infrastructure after being sworn as new governor. He remarked that as the new governor of NTB, he faced a challenging task that necessitated serious attention.
"We are also close to the previous governor, so during the rehabilitation process (at the end of his term), we also accompany (him)," Zulkieflimansyah noted at the State Palace here on Wednesday.
Zulkieflimansyah said he will coordinate with all parties in handling the impact of the earthquake in the area. "We also coordinate with the regional heads whose areas were affected by the earthquake, such as the districts of North Lombok, West Lombok, and East Lombok, and also on Sumbawa Island," he noted.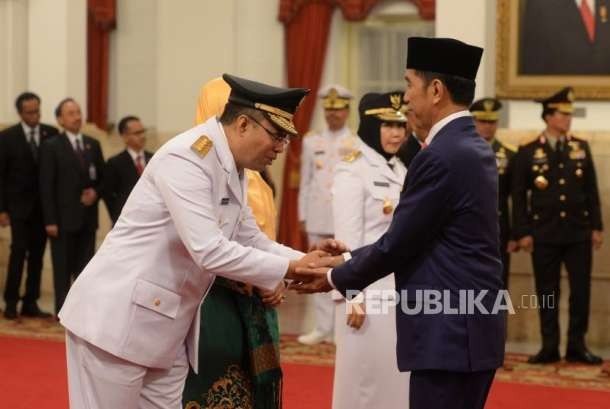 President Joko Widodo congratulates new West Nusa Tenggara Governor Zulkieflimansyah (left) after the inauguration at State Palace, Jakarta, Wednesday (Sept 19).
He said that the media, so far, did not completely cover all earthquake-affected areas, such as the West Sumbawa District, which was often left unreported. Regarding the funds for rehabilitation of houses that had yet to be disbursed, the new governor stated that based on the Ministry of Finance, funds amounting to around Rp300 billion had already been distributed to the National Disaster Mitigation Agency.
"We will meet the finance minister to check that tomorrow. Hopefully, the disbursement of funds and its accountability would run smoothly and not cause trouble later," he remarked in the company of NTB Deputy Governor Sitti Rohmi Djalilah.
He also cited the case of the educational fund assistance issue in Lombok, currently being handled by the Corruption Eradication Commission, that must serve as a lesson.
Also read: Jokowi signs his instruction on Lombok quake handling
"We, as state administrators, must be very careful. Hopefully, this will be a serious warning for us that disaster management must be taken seriously. There should be no motives that are not good," he emphasized.
He expressed hope that the post-earthquake rehabilitation and reconstruction program, especially of the people's damaged homes, would run smoothly and be completed soon.
"We are facing the rainy season. It is impossible for people to live in simple tents. Sanitation facilities must be repaired. Hopefully, when the rainy season arrives, the problem can already be solved," he added.