Prabowo reminds KPU to uphold honesty in holding election.
REPUBLIKA.CO.ID, JAKARTA -- Gerindra Party Chief Patron and presidential candidate of the opposition camp, Prabowo Subianto asserted succession of government should be done fairly and honestly. He reminded the importance to uphold honesty in holding elections.
"Succession of government leaders, including regent, mayor, village head and president must be run fairly and honestly," he said after registering himself and his running mate Sandiaga Uno as the presidential election 2019 participant at General El ection Commission (KPU) office, Jakarta, on Friday (Aug 10).
Prabowo said the people's decision as the election's result should be respected. Therefore, KPU was bearing a heavy duty in maintaining justice and fairness in election process. "I entrust the hopes of all Indonesian and our cadres to KPU, because we believe democracy is the one and only, the best governmental system ever," he said.
He said election of leaders using the ballot boxes is a symbol of people's sovereignty. "Do not ever insult the people's rights, do not cheat the people's rights. What ever the people's decision is, we will accept and respect it. We want to be in power with the people's permission. We want to be in power to serve Indonesia," he remarked.
Also read: Former presidents' sons, daughters support Prabowo-Sandi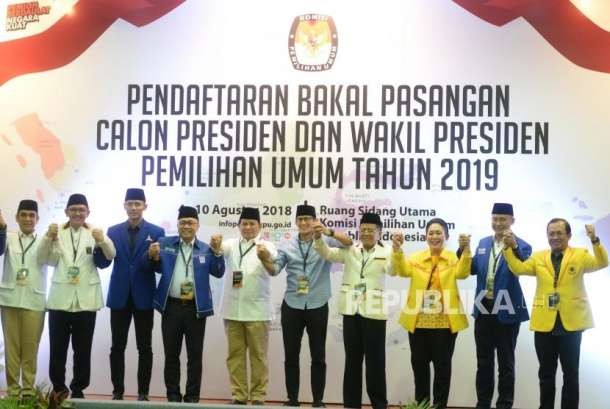 Presidential candidate Prabowo Subianto (central) and his running mate Sandiaga Uno hold hands with leaders of political parties from the opposition camp after registering themselves to General Election Commission (KPU), Jakarta, Friday (Aug 10).
Earlier, Prabowo and Sandiaga arrived at KPU office in Jakarta on Friday to register themselves to run for the presidential election scheduled in April, next year. The pair arrived at the office at 1:30 p.m. local time after offering Friday prayers at the Sunda Kelapa mosque.
Prabowo and Sandiaga was accompanied by leaders of coalition party members comprising Sohibul Iman, chief of the Prosperous Justice Party (PKS); Zulkifli Hasan, chief of the National Mandate Party (PAN); and Agus Harmurti Yudhoyono, representing the Democratic Party and their secretaries-general.
Secretary General of Berkarya Party Priyo Budi Santoso; Deputy Chairman of the board of patrons of Gerindra (Prabowo's party) Hashim Djojohadikusumo, who is Prabowo's brother; Gerindra political figure Rachmawati Soekarnoputri; and Berkarya Party politician Titiek Soeharto, were also seen along with them.
Others include Chairman of PAN's advisory board Amin Rais, Gerindra politician Habiburokhman, Sandiaga's wife Nur Asia Uno, PKS politician Aboe Bakar Al Habsyi, PKS' advisory board chairman Salim Segaf Al Jufri, and PAN politician Dedi "Miing" Gumelar.
They were welcomed on arrival by KPU Chairman Arief Budiman and other KPU commissioners as well as Chief of the Election Supervisory Board (Bawaslu) Abhan and Bawaslu commissioners and election advisory board members. Head of Technical and Legal Bureau of KPU, Nur Syarifah said that Prabowo and Sandiaga have met all requirements for their nomination in presidential election 2019. They may proceed to undergo medical check up on Monday (Aug 13).