Mahfud MD was asked to prepare himself to be Jokowi's running mate.
REPUBLIKA.CO.ID, JAKARTA -- Former Constitutional Court Chief Justice Mohammad Mahfud MD surprised to hear incumbent President Joko Widodo (Jokowi) pick Nahdlatul Ulama supreme leader KH Ma'ruf Amin as his running mate in presidential election 2019. Moreover, he was asked to prepared himself to be Jokowi's vice presidential candidate.
However, he was not disappointed with Jokowi's decision. "I'm not disappointed, but surprised because I was asked to prepare myself and it was in detail," Mahfud said in Jakarta on Thursday (Aug 9).
Earlier, Mahfud has prepared recommendation from Sleman District Court, Yogyakarta, to declare his has never been a convicted. The letter of recommendation was needed as part of his nomination.
"But, it's ok. It's normal in politics. We have to put forward the safety of this country and not Mahfud MD's and Ma'ruf Amin's or anyone's name," he remarked.
Mahfud has met with Jokowi at State Palace on Thursday night after the declaration. "So, we take the decision. The process was very constitutional. Well, we support this country to go on," he said.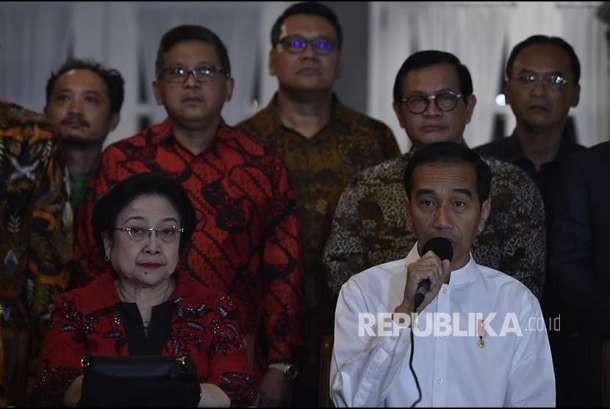 Incumbent President Joko Widodo (right) accompanied by Indonesian Democratic Party of Struggle Chairperson (PDI Perjuangan) Megawati Soekarnoputri (left) declares Nahdlatul Ulama supreme leader KH Ma'ruf Amin as his running mate in presidential election 2019, in Jakarta, on Thursday (Aug 9).
Jokowi declared himself and Ma'ruf as pair of presidential and vice presidential candidate from the government camp at Plataran Menteng restaurant, Central Jakarta, on Thursday evening. Ma'ruf admitted that he did not expect to be elected by Jokowi. Nevertheless, he believed he must be ready when the country is calling.
"Because of being chosen, it means I have to be ready to serve the country, right? If an ulema is needed (it means that he is) useful," Ma'ruf said to the reporters at Central Board of Nahdlatul Ulama office in Central Jakarta on Thursday night.
According to Kiai Ma'ruf, he and Jokowi often discussed about the nation. He felt he has a lot in common with Jokowi.
"Previously, we have many discussions about integrity of the nation. So, there was a lot of harmony with me. We shared the same tune in many things," he said.
In political years, Kiai Ma'ruf admitted identity politics could arose. Therefore, he wanted to build synergy among the people to avoid division.
"We must understand that we have a strong state foundation which is an agreement. There should be no attack between one group to another because we agreed to live side by side," Ma'ruf said.