Jokowi says Kiai Ma'ruf Amin is an ideal figure to be his running mate.
REPUBLIKA.CO.ID, JAKARTA -- Incumbent President Joko Widodo (Jokowi) has called his combination with Islamic cleric KH Ma'ruf Amin, as his running mate in his bid for his reelection next year, as a nationalist-religious mix. Jokowi declared his candidacy and his vice presidential candidate on Thursday afternoon in Central Jakarta.
"We complement each other as a nationalist-religious pair," said Jokowi, at a press conference after meeting with leaders of coalition parties here on Thursday evening.
He stated that it was a nationalist-religious concept that he would offer to the people across the country in the presidential election in April next year. He remarked that his target was not region by region but the entire people of Indonesia "from Sabang (west) to Merauke (east)."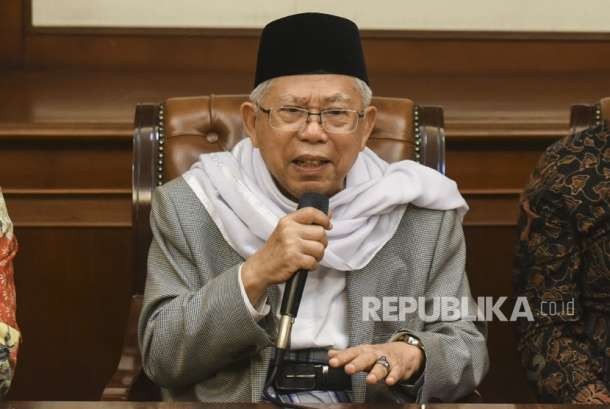 Supreme leader (Rais 'Aam) of Central Board of Nahdlatul Ulama (PBNU) KH Ma'ruf Amin holds a pers conference at PBNU headquarters, Jakarta, Thursday (Aug 9).
Jokowi held the press conference after announcing his decision to pick senior cleric KH Ma'ruf Amin as his running mate for the election next year. He claimed the decision had been approved by nine coalition member parties.
He stated that all chiefs of the parties had put their signatures to show their approval of the decision on a document that he also showed to newsmen at the conference.
"Tomorrow, at 9 a.m., we will come to the General Election Commission office to register along with coalition party leaders, secretaries general, and supporters," he revealed.