Jokowi had a lunch with party leaders from Perindo, PSI, and PKPI.
REPUBLIKA.CO.ID, BOGOR -- President Joko Widodo (Jokowi) had a lunch with new political party leaders at the State Palace in Bogor, West Java, on Saturday. He lauded the young leaders of three new political parties.
"They bring new ideas, spirit, and vigor to our political life," he said, showing pictures of the party leaders from Perindo, PSI, and PKPI that he had uploaded in his Facebook account.
Jokowi said Hary Tanoesoedibyo from Perindo, Grace Natalie from PSI, and Diaz Hendropriyono from PKPI have given him information about the nation and the state.
On Monday (July 23) Jokowi met Megawati Soekarnoputri as chief of PDIP, Surya Paloh (Nasdem), Airlangga Hartarto (Golkar), Romahurmuzy (PPP), Muhaimin Iskandar (PKB), and Oesman Sapta Odang (Hanura).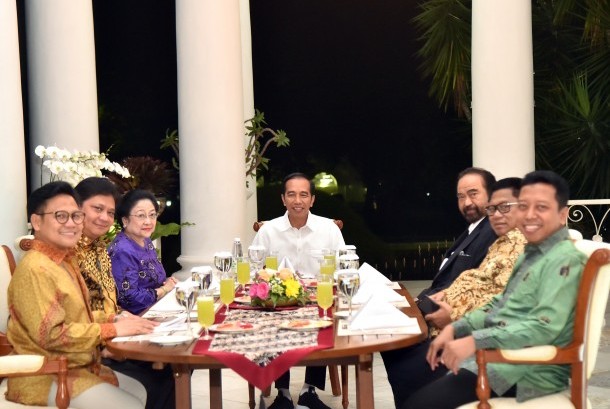 Incumbent President Joko Widodo invites leaders of supporting parties, namely Chairperson of Indonesian Democratic Party of Struggle (PDIP) Megawati Soekarnoputri, Chairman of PKB Muhaimin Iskandar (Cak imin), Chariman of Nasdem Party Surya Paloh, Chariman of Hanura Oesman Sapta Odang (Oso), and Chairman of PPP Romahurmuzy (Rommy) to Bogor Palace, West Java, Monday (July 23) night.
These parties support Jokowi in his bid for seeking reelection in the election scheduled to be held in April next year. So far, Jokowi has not decided who would be his running mate for the election.
Natalie noted that the number of candidates for Jokowi's running mate has been shortlisted. "There has not been a definitive name yet, but the number has been shortlisted to only a few," she said in a press release.
She did not disclose the names of candidates but hoped it would be revealed soon. Regarding the meeting, she remarked that Jokowi looked modest, bright, and very healthy.
"I saw an aura of optimism and triumph on his face," she explained.
Natalie stated that besides talking about his ideal running mate, they discussed a lot about various developments that have been made and also the improvements that are still to be made.