The Asian Games torch bearing a blend of the flame from India and Mrapen's flame.
REPUBLIKA.CO.ID, SOLO -- The Indonesian Asian Games Organizing Committee (INASGOC) continued the Asian Games torch relay from Yogyakarta to Solo on Thursday. "On behalf of all people of Yogyakarta, we receive the torch from INASGOC Chief Eris Herryanto to take it to Solo," Mayor of Yogyakarta Haryadi Suyuti remarked here on Thursday.
Suyuti then lit the torch, bearing a blend of the flame from India and Mrapen's perennial flame placed in a special lantern of tinder box, which was then handed over to INASGOC Director Herty Purba, before being brought to Solo, Central Java.
"We received the Asian Games flame from Yogyakarta to continue our trip to the city of Solo," Purba noted.
The 2018 Asian Games torch relay in Yogyakarta started from the Yogyakarta Palace. Yogyakarta Special Region Governor Sri Sultan Hamengkubuwono X officially lit the Asian Games torch from a mini-cylinder that had been prepared in the palace yard and handed over the torch to Foreign Affairs Minister Retno Marsudi.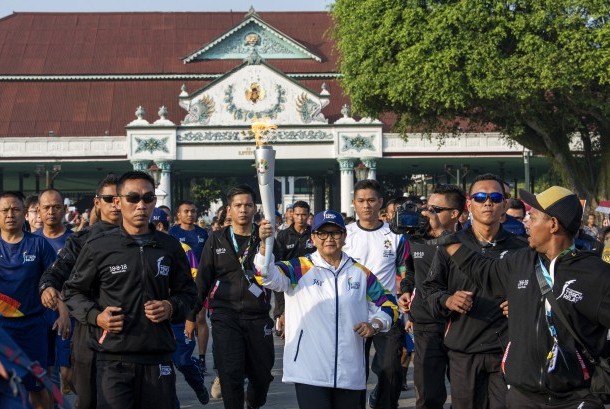 Minister of Foreign Affairs Retno LP Marsudi (center) carry the torch during Asian Games 2018 torch relay from Keraton Yogyakarta in Yogyakarta, Thursday (July 19).
Marsudi then ran as far as 100 meters to the northern square and passed on the 18th Asian Games torch to the Yogyakarta Police Chief, the Commander of Adisutjipto military air base, and the Commander of the Navy's Main Base (Danlantamal) of Yogyakarta.
Also read: Asian Games' flame enliven Ratu Boko Temple
The Asian Games torch relay in Yogyakarta also involved former national athletes from Yogyakarta, who had performed well in international championships. They became the torchbearers, passing on the flame to their counterparts in the relay.
INASGOC Secretary General Eris Herryanto became the last torch bearer in Yogyakarta before it was received by Yogyakarta Mayor Haryadi.