BlackGold says Johannes Kotjo is no longer the company consultant since last June.
REPUBLIKA.CO.ID, JAKARTA -- Singapore multinational company BlackGold Natural Resources Ltd has denied any involvement in alleged bribery case in Riau-1 coal-fired power plant (PLTU) construction project. The company also said that Johannes Budisutrisno Kotjo was not one of the shareholders.
BlackGold CEO, Philip Cecil Rickard said Johanes was only a consultant at the company. However, since last June, Johanes was no longer hired. He stated that the news circulating recently were irrelevant.
"BlackGold does not involved in bribery case and Johannes also has not become our company consultant since last June," said Philip in an official statement.
Also read: KPK to summon witnesses in Riau-1 project graft case
Johannes has been arrested by Corruption Eradication Commission (KPK) in red-handed operation on last July 13. He was arrested along with Golkar Party lawmaker Eni Maulani Saragih.
KPK also has named Johanes and Eni as suspects. Johannes was said as one of the shareholders at BlackGold Natural Resources allegedly offered the bribe.
Johanes as alleged bribe giver is suspected violated Article 5 paragraph 1 letter a or letter b or article 13 Law No. 31/1999 as amended by Law No. 20/2001 on Eradication Corruption, also Article 64 paragraph (1) Criminal Code (KUHP).
BlackGold is holding company of PT Samantaka which is one of the consortium partners of power station Java Bali (PJB), a subsidiary of State Electricity Company (PLN) in constructing PLTU Riau 1.
Meanwhile, PLN president director Sofyan Basir said BlackGold became a consortium in Riau-1 coal-fired power plant construction project through direct appointment mechanism. This mechanism was carried out by PT The Java Bali plant (PJB), a subsidiary of PLN.
"The appointment is done by PJB as majority shareholder who has the right to appoint the consortium," Sofyan said.
Sofyan explained that in the mechanism of the appointment of some of the mine land owners who submitted proposal that can fit PLN qualification. Then, PJB has the authority to select which of the companies that offer such companies are approved as partners in the consortium.
"Let's say there will be two or three later which are most suitable, which is the qualification mine and capitalization," Sofyan added.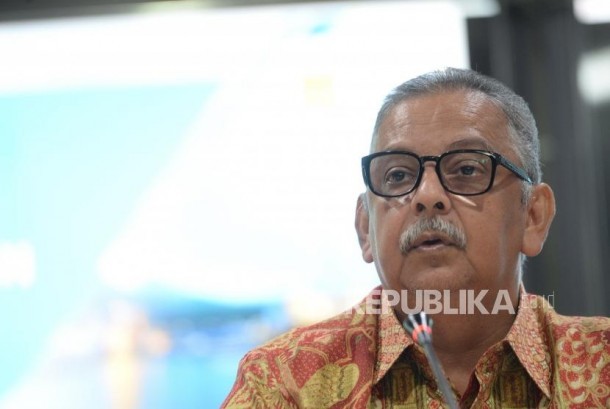 PLN president director Sofyan Basir holds a press conference at PLN headquarters, Jakarta, Monday (July 16).