Tito says Mako Brimob was not designed to accomodate terror convicts.
REPUBLIKA.CO.ID, DEPOK -- National Police Chief Muhammad Tito Karnavian visited National Police's Mobile Brigade Command headquarters (Mako Brimob), Kelapa Dua, Depok, West Java soon after arriving from Jordan on Thursday (May 10) afternoon. He conducted an evaluation to the detention facility.

"Mako Brimob is not proper to be functioned as detention center for terror convicts because it is not maximum security prison," he remarked at Mako Brimob on Thursday afternoon.

Tito noted Mako Brimob prison was overcrowded. He said ideally the detention facility kept around 64 to 90 prisoners.

"I just knew that there were 155 inmates, very crowded," he said.

Tito explained the branch of Salemba Correctional Institution was established at Mako Brimob as a detention center for policemen and other law enforcement officers involved in criminal cases. They have to be seperated to prevent them from being victim of violence of other inmates.

However, there was a need to conduct examination to terror prisoners and Mako Brimob was considered as the most secure place. Moreover, the location of detention center is confined inside Mako Brimob area.

"But, it was not proper because it was not designed as maximum security prison for terrorists," he reiterated.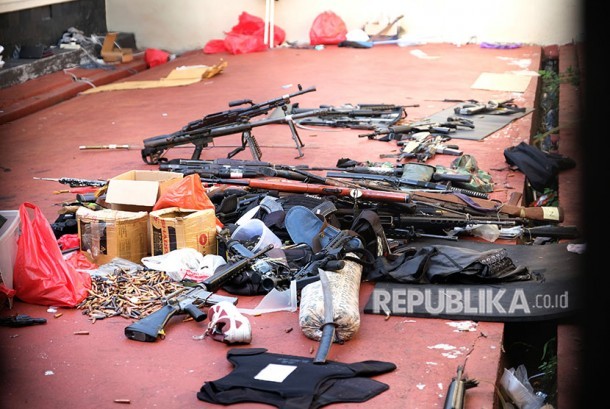 Armament left by terror inmates at one of the rooms of Mako Brimob Detention Facility, Kelapa Dua, West Java, on Thursday (May 10).

The riot began on Tuesday (May 8) afternoon following a quarrel between terror convicts and the detention guards. The police claimed the commotion happened over a food package. In accordance with the police's standard operation, all food for the inmates should be checked and sterilized, because it must not contained forbidden materials.

The food-checking procedure led into a deadly riot, after some terrorist convicts disarming the police officers, and capturing them as hostages at a block detention inside the headquarters.
However, after being given an ultimatum, of the total of 155 prisoners in Mako Brimob, Kelapa Dua, 145 then surrendered unconditionally before dawn on Thursday morning. Meanwhile, 10 other prisoners had still refused to surrender, so the police officers then raided the location where they had gathered with tear gas and smoke grenades.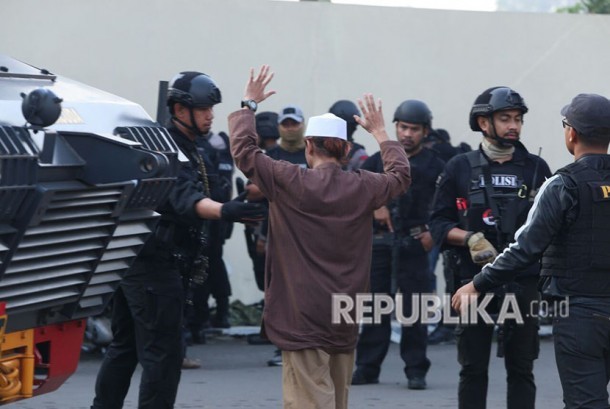 Terror convicts surrender themselves to the police following a riot at Mako Brimob prison, Kelapa Dua, West Java, on Thursday (May 10).

The remaining 10 terror convicts surrendered following the use of gunfire, bombs, smoke grenades, and tear grenades. Thus, 155 terror convicts have surrendered to the Indonesian security forces. They have been sent to Nusakambangan prison.
Four policemen injured in the incident. Meanwhile, five other officers and one terror detainee were killed on Tuesday night riot.