One terror convict died in the riot at Mako Brimob Prison, Kelapa Dua, Depok.
REPUBLIKA.CO.ID, JAKARTA -- Coordinating Minister for Political, Legal, and Security Affairs Wiranto asserted that the police had given an ultimatum rather than a negotiation offer before taking action against the prisoners. His statement came following a deadly riot occured at Mako Brimob Prison, Kelapa Dua, Depok, West Java, on Wednesday.
"The security forces gave an ultimatum first before taking action; that is not negotiation," he noted at Mako Brimob, Kelapa Dua, Depok, on Thursday.
The former TNI commander explained that the prisoners were given the ultimatum to either surrender or face the risk of the authorities taking action. "The ultimatum carried a certain time limit during which they have to respond or face the consequences," he added.
After being given an ultimatum, of the total of 155 prisoners in Mako Brimob, Kelapa Dua, 145 then surrendered unconditionally before dawn on Thursday morning.
"We urged them to move out of the location, and there is no negotiation or even bargaining," he explained.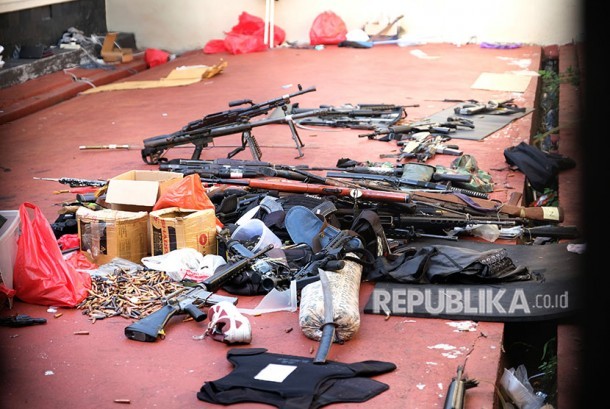 Armament left by terror inmates in one of the rooms at Mako Brimob Detention Facility, Kelapa Dua, West Java, on Thursday (May 10).
Wiranto revealed that 10 prisoners had still refused to surrender, so the police officers then raided the location where they had gathered. "The remaining 10 terror convicts have surrendered following the use of gunfire, bombs, smoke grenades, and tear grenades. Thus, 155 terror convicts have surrendered to the Indonesian security forces," he stated.
Earlier, police action was taken against prisoners in Mako Brimob following a coordination meeting between security personnel and stakeholders.
The raid on Thursday morning was in line with international operational standards.