Five policemen died in the riot at Mako Brimob prison.
REPUBLIKA.CO.ID, JAKARTA -- A total of 155 terrorist detainees have turned themselves to the Police officers on Thursday, following two days of deadly riot at the National Police's Mobile Brigade Headquarters (Mako Brimob) in Depok, West Java.
"The first group of 145 had surrendered first without any conditions, and the other 10 had chosen to stay inside (the detention center)," Coordinating Political, Legal and Security Affairs Minister Wiranto said in a press conference at the headquarters, Thursday.
Hence, in accordance with the standard operational procedure, the police officers delivered an ultimatum to the other 10 convicted terrorist inmates. "We (the security officers) would never negotiate with the terrorists," the minister remarked.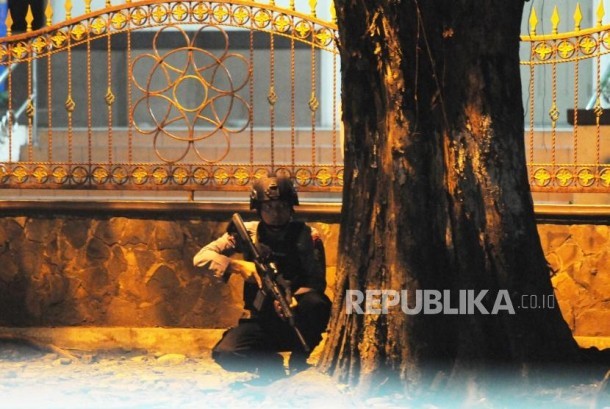 Mobile Brigade squad try to normalize the situation following a riot at Mako Brimob, Kelapa Dua, Depok, West Java, on Wednesday (May 9).
Following the warning, Wiranto said that the armed security officers had raided the detention center inside the headquarters with tear gas and smoke grenades. "The other 10 terrorist detainees had surrendered after the raid," he stressed.
During the press conference, the minister stated that the Indonesian government is committed to strengthen measures on counter-terrorism. "This deadly incident is a momentum for us (the security officers) to increase actions on battling against radicalism and terrorism in the country. For now, let's deliver our pray for the five police officers that had been tortured and killed by the terrorist detainees," he noted.
A clash broke out at the headquarters after some terror convicts had quarreled with the detention guards over a food package. In accordance with the police's standard operation, all food for the inmates should be checked and sterilized, because it must not contained forbidden materials.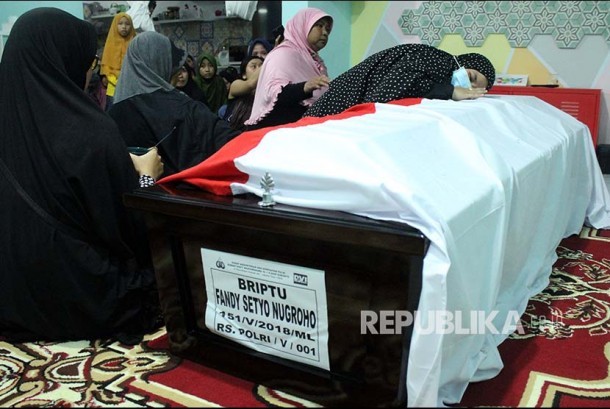 Five policemen, among others Fandy Setyo Nugroho, died in the operation to normalize the situation at Mako Brimob, Kelapa Dua, Depok, West Java.
However, the food-checking procedure led into a deadly riot, after some terrorist convicts disarming the police officers, and capturing them as hostages at a block detention inside the headquarters. Following the riot, five police officers and one terror detainee were killed on Tuesday night.
"All the bodies have been taken to the National Police Hospital," Chief of the Public Information Bureau at the National Police Headquarters, Brigadier General M Iqbal, stated on Wednesday (May 9).
A media arm of the Islamic State had claimed that its loyalist were behind the clash. However, the national police spokesman, Brig. Gen. Iqbal had denied the IS claim over the incident.