There are 18 reports against Sukmawati over her controversial
REPUBLIKA.CO.ID, JAKARTA -- National Police Criminal Investigation Unit (Bareskrim Polri) continued to investigate Sukmawati Soekarnowati's case related to her controversial poem titled "Ibu Indonesia". Bareskrim was still studiying reports of alleged blasphemy filed by a number of parties in several regions.

"We have dozens of reports from several regions so we must learn whether those reports have any similarity," Ari on Thursday (April 19).

Ari explained the police have received 18 reports against Sukmawati. The investigators has been learning it and collecting whatever needed to continue the investigation.

According, lawyer Denny Andrian Kusdayat said there has been no progress on his report against Sukmawati to Jakarta Metro Police. Therefore, he wanted to seek information from the police.

"Today I will come to Jakarta Metro Police headquarters," he said to Republika.co.id on Thursday.

Earlier, Denny said as a Muslim, he has forgive Sukmawati as advised by the Indonesian Council of Ulemas (MUI) chairman. On the other hand, he pledged not to revoke his report.

"However, Sukmawati's criminal case did not need a report to be processed legally," he said on Wednesday.

Meanwhile, Nahdlatul Ulama official in East Java (PWNU) decided to revoke the report against Sukmawati following her visit on Wednesday. Chairman of PWNU East Java Hasan Mutawakkil Alallah said Sukmawati has apologized over her poem.

"We forgive her and urge her to not repeat the mistake," he said.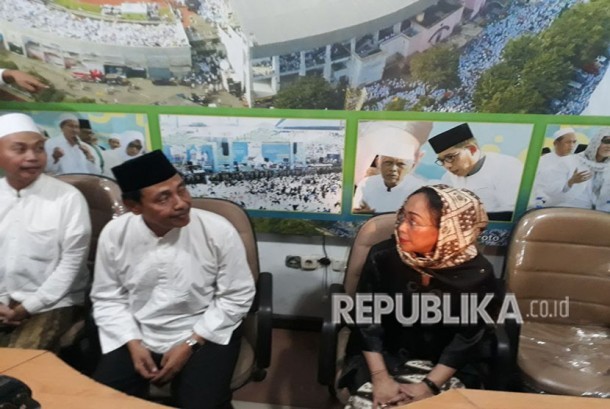 PWNU East Java Chairman Hasan Mutawakkil Alallah (second left) and Sukmawati Soekarnoputri (second right) hold a press conference at PWNU East Java office in Surabaya, East Java, on Wednesday (April 18).

Sukmawati read her poetry titled "Ibu Indonesia" (Indonesian mother) on the commemoration of Anne Avantie's journey as kebaya (Javanese blouse) designer during Indonesia Fashion Week 2018 event at Jakarta Convention Center. In the first line of her poem, she wrote, "I did not understand about Islamic Sharia".

Then she also said that women with bun were prettier than women with veil. Sukmawati also mentioned about the sound of Indonesian mothers hymn that is more melodious than azan (call to prayer). The poetry was widely criticized as it was considered provoking about SARA (ethnicity, religion, and race).

Sukmawati then conveyed an apology over her controversial poetry. She said there was no intention of insulting Indonesian Muslims through the poem.

Some of parties who reported Sukmawati were among others lawyer Denny Andrian Kusdayat, Hanura Party politician Amron Asyhari, a group who named themselves Alumni 212, Indonesian Muslims Student Association (GMMI), United Islamic Forum (FUIB), and Street Lawyer Legal Aid.